This morning I visited Crown Equipment in New Castle on "I" Avenue. By good fortune, it is also the 6th Anniversary of Crown Equipment's announcement to grow in Henry County.
The New Castle facility employs about 250 people (100 more than the 2011 press release!) and are very active with the New Castle Area Career Center. Examples of current job opportunities include: Equipment Service Tech, Mill Operator and Lathe Operators. Visit http://www.crown.com/en-us/careers/ to learn more.
My quick tour revealed a bright and bustling manufacturing facility. In my opinion, they offer great local job opportunities for our young people at a location with so much history in New Castle.
Happy 6th Anniversary and thank you for your continued investment.
Here is an excerpt and picture from the October 17, 2011 press release:
"Lt. Governor Becky Skillman joined executives from Crown Equipment Corporation, a manufacturer of materials handling equipment, today to announce that the company will expand its operations here, creating up to 150 new jobs by 2013….."The New Castle facility gives Crown the needed floor space to support our expanding product line. In addition, the location is centrally located to our other facilities, which affords us some logistics benefits. We have had great success with our other operations in Indiana and we look forward to continuing that success," said Jim Dicke III, president of Crown…..Founded in 1945, the company originally manufactured temperature controls for coal burning furnaces. Entering the materials handling industry in 1957, Crown is now among the world's largest manufacturers of lift trucks. Crown operates 11 manufacturing facilities in North America, Europe, Asia and Australia."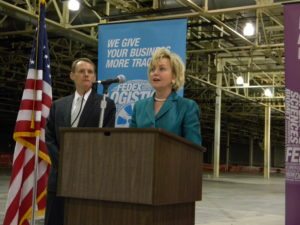 – Corey Murphy