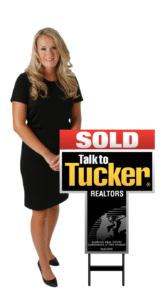 Living in the suburb of McCordsville seemed like a great idea to Cara Taylor after graduating from Ball State University with a bachelor's degree in Residential Property Management. She enjoyed the amenities of being close to Indianapolis. After a few years, however, she discovered that instead of visiting the city, she was traveling to Henry County to visit family and friends.
"I missed that 'small town' feel of seeing a familiar face and doing business with people that I know and trust," Cara shared. "I found myself coming 'home' on the weekends to be with family and to enjoy the country lifestyle."
Cara decided to move back to her hometown and now works with F.C. Tucker/Crossroads Real Estate as the managing broker. She's been part of the company growing from a small independently owned real estate office to the top-selling real estate company in Henry County in 2017, with additional offices in Knightstown and Centerville. Her approach to success is centered on a growth mindset.
"I believe that business growth is always important. I don't mean growth in terms of financial gain, I mean growth in terms of always improving yourself and your company to make sure you are always proud of the service you have to offer," she stated.
Cara also believes in personally investing herself in the community where she lives and works.
"I love being involved in the community and how that has given me the opportunity to truly feel a part of something and have the chance to make a difference," she noted. "It is so much easier to feel personally invested in a smaller city than it is in a larger one. That alone gives me a sense of pride and hope for the success of Henry County."
Cara's upbringing in Henry County included involvement in sports, 4-H and academic programs. Through these programs, she created lifelong friendships as a child that were cultured over years and still exist today. As an adult she enjoys camping, boating, horseback riding, front porch sitting and continuing to cultivate her relationships with family, church family, and friends.
She has some advice for anyone considering a move to the Henry County area: "Between the growing economic climate, more outdoor recreation opportunities, and increased opportunities for children and families, you will be happy to see what's new and improved in Henry County. Whether you are looking for the chance to be involved, or just some peace and quiet, come home to Henry County!"