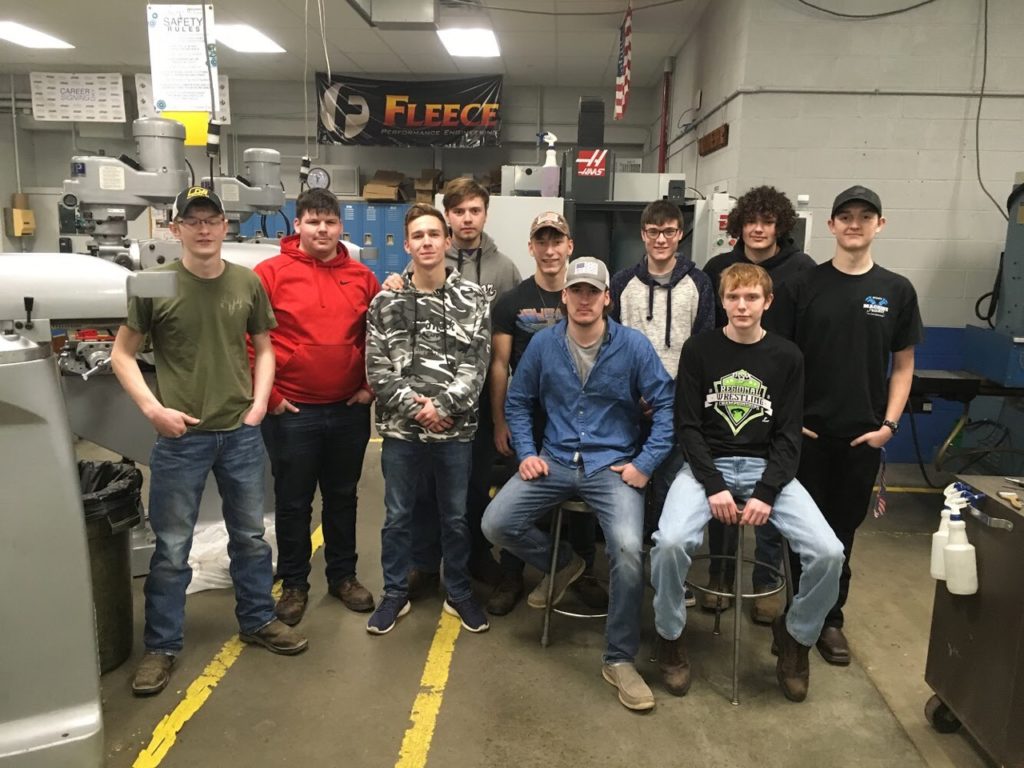 The future of machine trades arrived in the Machine Trades class at the New Castle Career Center in the form of a new Haas Mini Mill. The mill uses computer numerical control (CNC) technology to create precise parts. The technology is already in use by several employers in the area. "For this generation of machinists, this is what their future is going to be," said Greg Dickerson of New Castle Career Center's Machine Trades program. "CNC technology is widely used by local manufacturers."
Dickerson pursued the acquisition of the mill as he noticed a change in the industry's demands. Henry County's Redevelopment Commission (RDC) and the New Castle Henry County Economic Development Corporation (EDC) provided the funding for the mill.
The HAAS Mini Mill arrived in late February with the help of Mideastern Machine Movers, who donated the time and equipment to move the mill from the truck and bring it inside the Machine Trades work room. The installation process is extensive and should be nearing completion by the time students return from spring break April 8.
Crown Equipment has unofficially adopted the Machine Trades class, according to Dickerson. Crown uses a similar type of mill and has offered to send one of their toolmakers when the mill becomes operational to help with downloading programs into the machine.
The Mini Mill can create single unique parts or thousands of identical parts. Dickerson already has some projects in mind for his second-year students who will be using the mill this spring.
"Every project will have a learning objective in mind," he explained. "One example may be a simple engraved aluminum block or learning how to establish the location of a pickup point on a part."
Students will learn how the auxiliary functions work and are programmed. They will train as machine operators, with the opportunity to learn more advanced aspects. Dickerson has already noticed that the mill has helped recruit students for the next school year.
"It's a high-demand field right now," Dickerson said. "The availability of jobs is enormous. I'm getting calls from Muncie wanting recommendations of students. I've sent interns to Crown Equipment in New Castle, Magna Machine in Messick, Hoosier Feeder in Knightstown, Impact CNC in Rushville, Service Engineering in Greenfield, and Chesterfield Tool and Engineering in Chesterfield. They are begging for young people to get into the field."
Space is still available in the Machine Trades class for the 2019-2020 school year. Contact the New Castle Career Center for more information, (765) 593-6680.
This article was originally published on the New Castle Career Center's website. Learn more about the Career Center by visiting www.nccareercenter.org and by following the New Castle Career Center on Facebook.