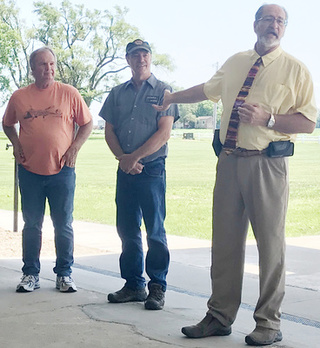 What started with a grass runway decades ago is now the newest home to Indiana University Health's LifeLine Helicopter.
A project more than a year and a half in making was officially christened in ceremonies and an open house at Marlatt Field. The New Castle-Henry County facility is now one of five official bases for LifeLine, joining facilities in Indianapolis, Columbus, Terre Haute and Lafayette.
Mayor Greg York praised the diligence of the Marlatt family, the airport founders, and said it was their "persistence, perfection and professionalism" that helped the airport grow.
"How could Bill Marlatt ever have dreamed that we would some day house LifeLine here in New Castle?" York said. "This is huge. This is huge for our community and county."
Then, turning to LifeLine officials, York said "I truly hope you feel like you're home."
LifeLine officials said the welcome mat has been more like a red carpet. Corey Hall, the statewide director for IU Health LifeLine, said the organization couldn't have asked for better partners for their newest base, which was moved from Richmond to New Castle.
"This community has been incredibly welcoming," Hall said. "While this move was well-thought out and deeply based in data analytics and meeting the needs of Hoosiers in Eastern Indiana, it was also incredibly impactful for the welcoming message I got from the first time I walked in those doors, saying 'hey, would you guys ever consider something like this?
"That welcoming message I think our team has received, not only at this airport but throughout this county, the hospital, EMS and fire providers," Hall continued. "We're just thankful to be here."
While the official ceremony was held Wednesday, IU Health LifeLine has been operational at Marlatt Field since May 22.
"The day we moved we were operational," said Charity Voth, IU Health LifeLine's regional supervisor. "Our people reported here at a shift change."
LifeLine took over one of the existing hangars at the airport and pumped an estimated $185,000 into improving the facility to meet its needs. The base has a LifeLine helicopter and a dedicated back-up aircraft. It is staffed 24-7 by a team that includes a pilot, a critical care nurse, a critical care paramedic, a supervisor and a dedicated base mechanic.
Voth said LifeLine's move from Richmond to New Castle widened the team's coverage area.
"We've got five critical care teams throughout the state," Voth explained. "We'll go wherever we're needed, anywhere in the state of Indiana or even across state lines into Illinois, Ohio and Kentucky."
For Shannon Thom, chief executive officer of Henry County REMC, and Paul Janssen, president and chief executive officer of Henry Community Health, having LifeLine in your backyard is a comforting thought.
"Having a helicopter that can take one of my guys, God forbid, who gets electricity burned through them, is a godsend," Thom said.
"We're real happy to have them in town," said Janssen.
Steady progress and improvements at the airport put the facility on IU Health's radar. The New Castle facility recently christened a new runway.
"IU Health has been fabulous to work with," said John Marlatt, manager of the airport and son of founder Bill Marlatt.
As Marlatt stood with his brother, Jeff, Wednesday, York reminisced about the airport's humble beginnings and its rise, thanks in large part to their father, who, incidentally, loves helicopters.
"When I was a kid a long time ago, there were three airports in New Castle," York said. "I remember at that point and time they were all grass runways. Out at Brown Road they'd have skydivers out there. The other airport was on the back side of the Memorial Park Golf Course and then here. This was their father's dream to have an airport. To this day, I still call him Sky King. To me, he'll always be Sky King.
"We truly, truly are grateful," York continued. "We can't say thank you enough to Bill, Jeff and John for all they've done for our community.
Then, referring back to the three airports New Castle had once upon a time, York said "Truly the best airport rose to the top."
– Story by Darrel Radford (DRadford@TheCourierTimes.com) of The Courier-Times. Read more local stories at www.TheCourierTimes.com.