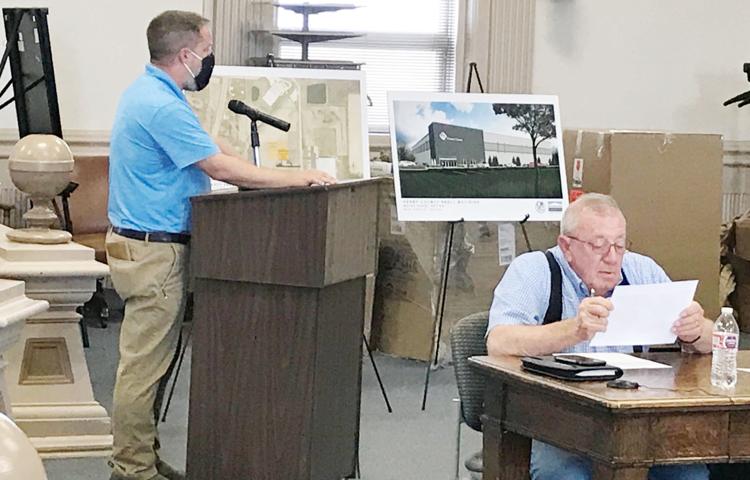 A massive building with no floor could help the New Castle job market reach new heights.
So says Corey Murphy, the New Castle-Henry County Economic Development chief, who recently updated board members on the progress of building a new "shell building."
Planned to be built north of Boar's Head North—which, by the way, was the former shell building—this new structure would contain 50,000 square feet and be expandable to 100,000 square feet. It would be constructed on land the Henry County Redevelopment Commission already owns.
But it would have no floor—on purpose.
"Many times we show the shell building, people will walk in and say 'where's the floor?'" Murphy said as he addressed EDC members at their August meeting. "You didn't put a floor in? No, we did that on purpose, because I don't know how thick the buyer wants their concrete or if they want a machine pit here. So if the building is constructed with six inches of concrete, that means it will need to be jackhammered to meet the new owner's needs. That's why we let the new owner put their own floor in."
Murphy said since the last shell building was purchased and occupied by Boar's Head, there has been a noticeable gap in the number of inquiries received by the EDC.
"I can tell you we've missed opportunities by not having product," Murphy said. "Now don't get me wrong, COVID has slowed down the opportunities in terms of business attraction, but they're still flowing. We have not been able to put our name in the hat because we don't have a product. And that's what the shell building is. It is marketing, serious, serious marketing from the business attraction standpoint. It says this community is serious about attracting new investment because we've already made the investment so you can make your widget and you can get it to market faster."
The hope is a groundbreaking ceremony for the new shell building will be held later this fall. Runnebohm Construction of Shelbyville, the firm which constructed the last shell building, has been selected to do this one as well.
In other EDC news:
Local efforts were recently featured in a Liveability Magazine, including an article about Knightstown and the Hoosier Gym restoration as well as an advertisement highlighting collaboration in Henry County between the EDC, Convention and Visitors Bureau, and WholeHeart Communications, a local marketing agency.
Spiceland Town Council President Darrin Jacobs reported that the former "Wilson's Market" building has received some major attention from Preserve Henry County, including a new roof and windows. The organization is looking for someone to "tuck point" the building and install new brick. Jacobs said there has been interest by someone in purchasing the building.
Knightstown Town Council member Landon Dean said work continues on refurbishing an outdoor basketball court that will resemble the fictional "Hickory Huskers" surface of Hoosier Gym.
Dean also reported the former "Lower Elementary School" building on Adams Street in Knightstown is now site of a project where 22 condos are being built. He said the developer wants to start in early March of 2021.
– Story by Darrel Radford (DRadford@TheCourierTimes.com) of The Courier-Times. Read more local stories at www.TheCourierTimes.com.