Dozens of local start-ups started a journey in February hoping to learn the business about running a business and maybe win some money on the side.
No one could predict the COVID spring would screech the inaugural "Business Builders" program to a halt.
After the world started reopening again, so too did Business Builders, a workshop series by Henry County Creates. The series wrapped up last week at the Hoosier Gym with seven small-business owners sharing $8,500 in grants.
Business Builders was a "crash-course MBA (Masters in Business Administration) for entrepreneurs" and a mini-Shark Tank, a competition where the best new idea gets a huge financial prize.
Henry County Creates is made up of New Castle Main Street, Knightstown Main Street, the New Castle-Henry County Economic Development Corp. (EDC), the Indiana Small Business Development Center (ISBDC), the Henry County Community Foundation and Ivy Tech Community College.
Scott Underwood of the ISBDC led each class, alongside New Castle Downtown Director Carrie Barrett. Underwood brought guest speakers in each week to share their experiences with the Business Builders.
Before COVID hit, the weekly classes took place at Ivy Tech. Once the classes resumed in August, participants met in New Castle's 1400 Plaza and the New Castle-Henry County Public Library auditorium, for social distancing precautions.
The classes showed participants how to create business plans and address human resources concerns. They taught about how to grow each business and even what type of business structure is best for each.
The carrot at the end of the stick was $8,500 from the Henry County Community Foundation.
As Underwood had said during the Business Builders class, however, the prize was more than the money. It was the experience, the networking, the introspection and hard questions these local entrepreneurs asked themselves as they learned how to truly get their businesses to start working for them.
"This is not the ending, but the beginning point," he said.
Launch Night
The Business Builders put all their lessons to work Oct. 14 in a final pitch to a panel of Henry County Creates judges: Underwood, EDC President Corey Murphy and Ivy Tech site director Jeannie Hamblin-Fox.
Murphy said "economic development" is about more than just "chasing smoke stacks," more than just bringing new factories to town.
"It's about building an environment in which people can succeed with their business dreams," he said.
People like Jon Mock, with his dream to bring Freedom Financial Wellness to people at work.
People like Cindy Kissick, who dreams of expanding Sharing Forward Realty to grow around her personal life.
Or people like local author Mark Herbkersman, who wants to focus his marketing efforts.
Asks from the Business Builder participant and – during the final pitch – competitors, also included help purchasing new equipment, building websites and paying for professional licenses.
Their presentations blended humor, humanity and technical experience to show the judges how a financial boost would help them.
After the presenters wrapped up their pitches, the judges surprised them with the announcement that no one was going home empty-handed.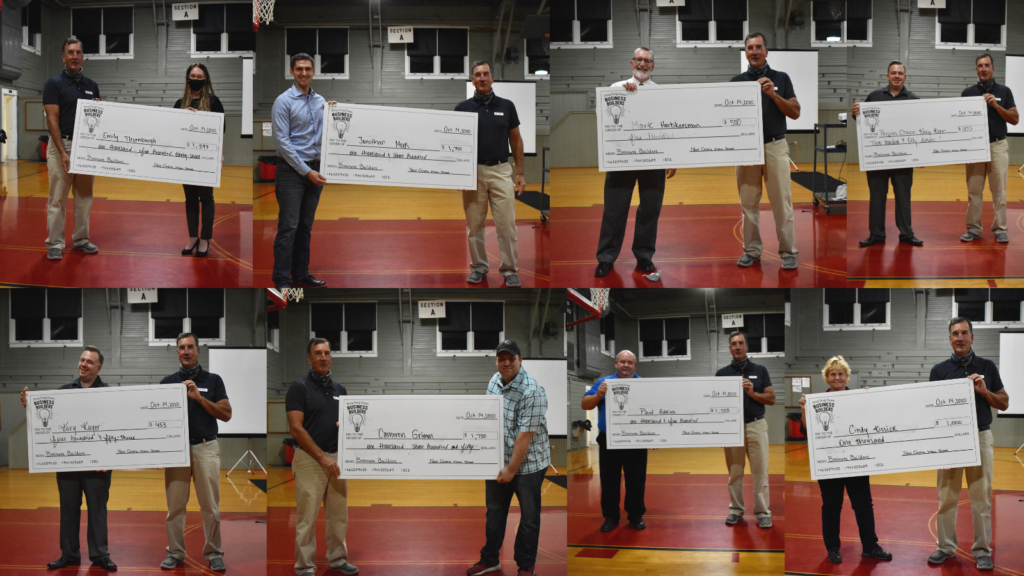 Each got a piece of the $8,500 pool.
Kory Koger, Kory's Kettle Corn, received $453; Mark Herbkersman, author, received $500; Cindy Kissick, Sharing Forward Realty, received $1,000; Paul Adkins, Adkins Electric, LLC, received $1,500; Emily Thornburgh, Studio 1534, received $1,597; Jon Mock, Freedom Financial Wellness, received $1,700; and Cameron Grimm, 5 After 5 Productions, received $1,750.
Koger received an additional $250 prize for being named People's Choice by the members of the audience.
"This was an incredibly rewarding series for New Castle Main Street, and I hope it was for you too!" said Barrett. She was self-quarantining during the event but sent in a recorded message.
What's next?Henry County Creates is looking to early 2021 for its follow-up program, "FailFest," dubbed "a celebration of failures."
"FailFest is based on the idea that innovation and success are possible because of our failures," explained Barrett. "When we fail, if we have the courage and strength to dust ourselves off and give it another go, we open the door to possibilities. FailFest is a celebration of those possibilities."
During FailFest, successful Henry County entrepreneurs who have failed (a time or two) and have built something out of those failures will talk about the lessons they learned.
"We want to change the perception that failing is negative. Failure is the beginning of possibilities!" Barrett said.
– Story by Travis Weik (Editor@TheCourierTimes.com) of The Courier-Times. Read more local stories at www.TheCourierTimes.com.