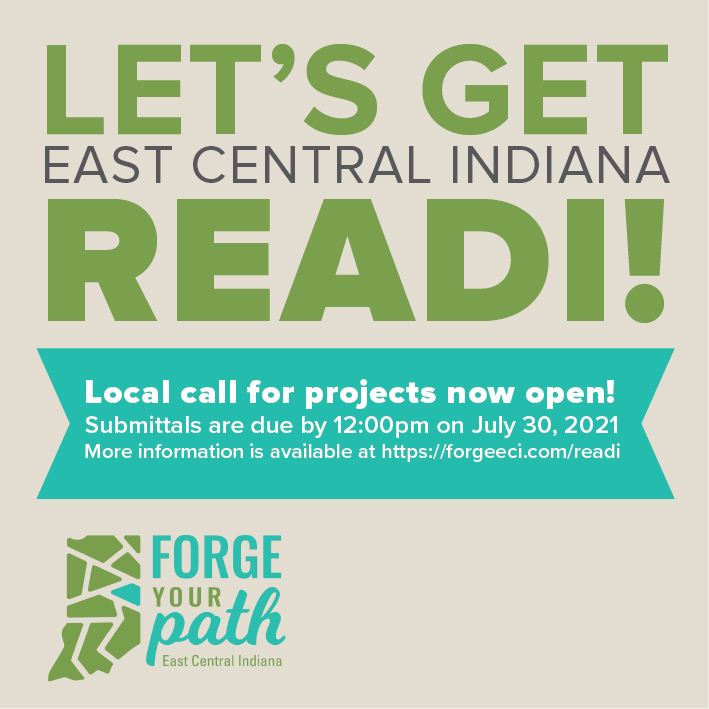 Our region, consisting of Blackford, Delaware, Grant, Henry, Jay, Randolph, and Wayne Counties, has endless opportunities for individuals and businesses to build a life and make a difference. While we have numerous advantages on our side, we believe we can be stronger. We believe that by working together we can establish our region as a destination and a place where people want to live, work, and play.
It is time for our region to come together to Forge Our Path to success.
Our goals for the region
The East Central Indiana Regional Partnership (ECIRP), in partnership with local governments, economic development organizations and anchor institutions, is in the process of preparing a Regional Development Plan. The Forge Your Path strategy, the region's most recent collaborative strategy to develop a robust and dynamic regional talent pool, will continue to serve as the region's collective identity. However, this regional process will also allow us to identify strategic projects and programs that strengthen our communities and make East Central Indiana a competitive choice for talent and economic growth.
When complete, ECIRP will use the plan to apply for up to $50 million in funding to accelerate the implementation of regional projects and programs that will catalyze economic and population growth.
About the READI program
To maintain current momentum and accelerate the state's economic growth, Indiana has recently launched the Regional Economic Acceleration and Development Initiative (READI). This is a bold, transformational initiative that will dedicate $500 million in state appropriations to promote strategic investments to make Indiana a magnet for talent and economic growth.
Through this initiative, the state will encourage neighboring counties, cities and towns to partner in creating a shared vision for their future by mapping out potential programs, initiatives and projects that are critical to retain talent today and attract the workforce of tomorrow.
About the planning process
With the assistance of a paid consultant and a volunteer governing body, ECIRP will facilitate the creation of the Regional Development Plan over the course of nine weeks. Through research and strategic community engagement, we will assess the current state of the region, identify trends and barriers limiting our success, craft a vision and supporting goal statements to guide our progress, and identify a series of catalytic strategies to improve our ability to support existing residents and business, attract new talent, industries and put east central Indiana on the map as a regional destination.
The final plan will be submitted to the Indiana Economic Development Corporation (IEDC) by August 31, 2021.
What projects and programs will be funded?
As a part of the READI process, the ECIRP team will propose strategies based on our area's unique landscape that, when implemented, will remove barriers to growth and advance economic activity. Projects will need to make positive developments in areas concerning quality of place, quality of life, quality of opportunity, innovation, entrepreneurship, and talent attraction and development.
These strategies can be the implementation of physical projects – including improvement of infrastructure, the addition of workforce housing developments, revitalization of blighted or vacant properties, and enhancement of cultural amenities and/or the planning of sustainable, multi-year programs – such as talent attraction initiatives, public-private partnerships to advance industry innovation, and small business support services.
Local and regional project ideas will be collected throughout the month of July via a regional call for projects. Deadline for project submissions is July 30. The submittals will then be reviewed and scored by the planning team to determine final prioritization.
For additional questions, please contact Katie Clark at kclark@tswdesigngroup.com or visit https://forgeeci.com/readi/.