The New Castle-Henry County Economic Development Corporation (EDC) held their annual meeting and dinner on Wednesday night at the W.G. Smith Building.
Henry County Commissioner Ed Tarantino gave the blessing before the dinner that was catered by Stacks Restaurant.
This was the first annual meeting for the EDC since 2019.
President Remarks
Corey Murphy, President of the EDC, spoke about all the activities coming up in June for Henry County's Bicentennial. Murphy read a few excerpts from Darrel Radford's upcoming book over the history of Henry County.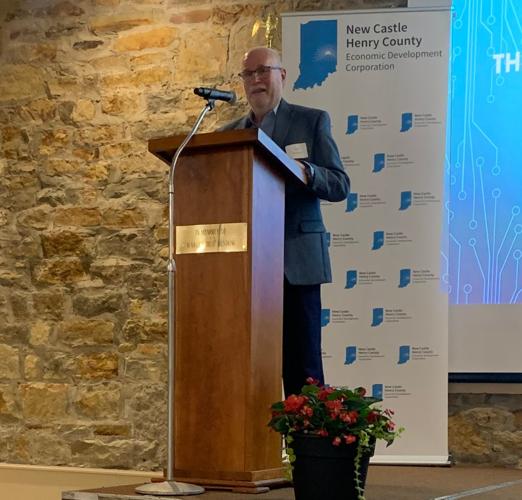 Murphy also honored Bill Aitchison, a long-time leader in the community. Aitchison served on the Henry County Redevelopment Commission for over 25 years, except for a brief time. Aitchison also served on the New Castle Redevelopment commission from 2001 to 2021. Aitchison also served the county EDC for many years.
"As a result of Bill's leadership and sound judgment the Henry County Redevelopment Commission, the New Castle Redevelopment Commission, and the New Castle Henry County Economic Development Corporation have each been able to fulfill their respected missions and significantly contributed to the economic development seen in our community during Bill's tenure on those boards," Murphy said.
Aitchison said, "With limited resources, we have been able to accomplish a lot over the years, and I am very proud of that."
Click here to download the slides from Corey Murphy's speech.
Election of Board members, Officers
John Greene, Cara Huffman, Nancy Harmon, Susan Falck-Neal, and Forrest Plank were elected as board members of the EDC at the meeting. Greene was also elected to be the Chair of the EDC, Jennifer Fox was elected as Vice-Chair, Michelle Back was elected to be Treasurer, and Brian Ring was elected as Secretary.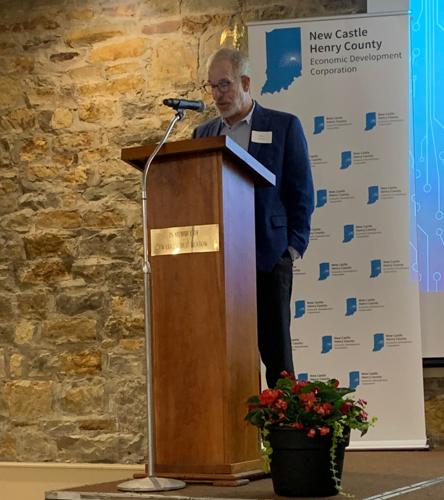 Guest Speaker
The guest speaker was Dean Barber, who is the principal of Barber Business Advisors.
Barber Business Advisors helps companies decide on operation locations nationwide. During his speech Barber spoke about issues that he thinks affect everyone. He talked about issues such as how the pandemic changed how businesses function, re-globalization, the housing market, electric cars, people quitting their jobs, remembering the dead, and a credo for economic development.
Barber said the credo for economic development should be "the best thing you do is invest in yourself."
He said, "If a community bets on itself, outside investors will notice. It will pay dividends. If a community does not invest in itself, how could it expect an outside investor to be interested?"
Barber spoke about the millions of people who lost loved ones from Covid-19.
"Nine million people who lost spouses, parents, grandparents, siblings, and children to Covid," He said. "This does not include extended family, friends, neighbors, and coworkers. Folks, this has left a lasting mark on us and I think it has left tensions and divisions in our country, which is sad. I hope that ends."
He finished his speech by saying, "I really like your community a lot. I got a better-than-10-cent tour. I realized how big basketball is in Indiana. I really appreciate this place."
Click here to download the slides from Dean Barber's speech.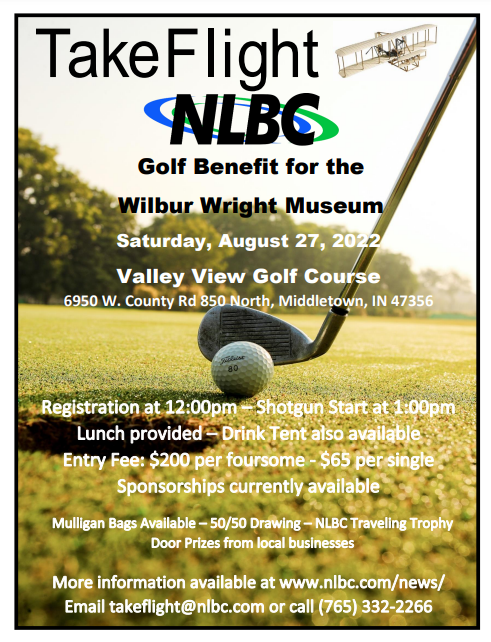 Take Flight Golf Benefit
The EDC also announced the Take Flight Golf Benefit for Wilbur Wright Museum that will be happening on Aug. 27.
Registration will start at 12 p.m. the day of the event. The golf benefit will take place at Valley View Golf Course in Middletown. The entry fee for teams of four is $200 and $65 for single players. Lunch will be provided.
For more information on the event and sponsorship opportunities visit www.nlbc.com/news, email takeflight@nlbc.com, or call (765) 332-2266.
– Story by Haley Segarra Torres (HTorres@TheCourierTimes.com) of The Courier-Times. Read more local stories at TheCourierTimes.com.