To even the most casual observer, downtown New Castle is experiencing a renewal.
Corey Murphy, President and CEO of the New Castle Henry County Economic Development Corporation, can feel it.
"There's so much energy downtown," Murphy said as he provided progress updates at Monday's city council meeting.
With several initiatives in the works, Murphy expressed gratitude toward city officials.
"Your investment – the council's investment, the mayor's investment, the city's investment over the years – has led to what I believe is a renaissance downtown."
Cobblestone seeking hotel operator
The council and mayor learned Monday that continued investment could bring a Cobblestone hotel to New Castle.
Founded in Wisconsin in 2008, Cobblestone Hotels has identified New Castle as a place they would like to build a hotel. The chain offers lodging in 25 states with Indiana locations in Brookville, Charleston and Salem.
Murphy said that the EDC and city redevelopment commission co-sponsored an independent hotel feasibility study. He said the results indicated a "good positive environment" for a hotel.
"A cliché term when you're looking at a business plan is, 'will that dog hunt?'" Murphy said, asserting, "Yes, that dog will hunt."
Cobblestone operates on a franchise model. The EDC is encouraging local investors to pursue the opportunity.
"We think our community needs this," Murphy said, "So if you are interested or you know of somebody that might be interested in considering it, give our office a call."
Cobblestone sees Northfield Park, Trojan Lane, and the Industrial Park as possible locations. Murphy said that once a franchise group is assembled, the location will become more clear.
Recruiting residents
Murphy also provided an update Monday on an initiative which encourages people from out of state to move to Henry County.
The Courier-Times reported in August that Henry County had partnered with MakeMyMove, an online marketplace that helps communities attract remote workers through incentives.
Private citizens who live out of state are incentivized to move to Henry County to either do a remote job with an income of at least $50,000 or they may agree to work for a Henry County employer.
The Henry County website recently launched at https://www.makemymove.com/get -paid/henry-county-indiana.
As of the first week of November, there were 1,088 unique views and 104 applications, seven of which were pre-qualified. One offer has been made. Murphy hopes to attract 20 workers in total.
Murphy said that MakeMyMove had prepared a 3-minute welcome video which is now available at the website.
"All our office did was identify people who might be good behind the camera," Murphy said. "But they put it together and it's phenomenal. It tells the story of our county and our city."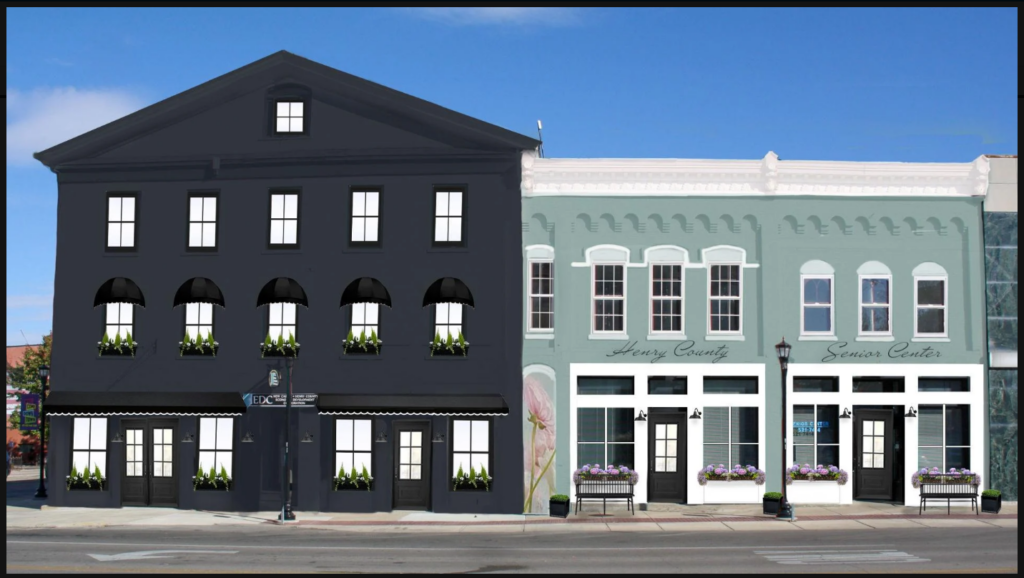 Murphey Building may get new look
Stephanie Tedder of Peony Poppy Designs has made a local name for herself as the visionary behind fresh looks for Trojan Lane, Popped, Citizens Corner at Broad and Main Streets, and the mid-century modern aesthetic of The Hub at 201 S. 14th Street.
On Monday, Tedder gave the city council a glimpse of what the Murphey Building and Senior Center might look like on South Main Street across from the courthouse.
The city owns the buildings which are in need of refurbishment.
"The whole building is a project," Mayor York said. "The front doors are absolutely junk."
The city recently replaced portions of the roof, but there is still more to do.
"It's not going to be piecemeal. If we're going to continue to own this building, it needs to be nice," York said.
York asked Tedder to do a rendering to give an idea of what the historic Murphey Building might look like. The city would like to replace the aluminum storefront with a wooden façade which would more closely align with the original structure.
Tedder's design is intended to maintain the spirit of the mid-19th century building while providing a fresh look. The structure has been a New Castle fixture since before the Civil War.
"While living in the South, I fell in love with window boxes after often visiting Charleston, South Carolina," Tedder said. "Beautiful window boxes filled with rich, colorful flowers are a symbol of Charleston's historic downtown. I wanted to add a touch of Southern charm by adding window boxes to my designs."
Nothing is official yet, but the artistic concept gives city leaders something to think about as they continue to improve the downtown area.
"It's a project for next year," York said.
City buses soon to be free
Transportation director Doug Sloan announced that New Castle's public transportation will be free beginning Dec. 1.
"No more fares for any of our citizens, and that's a good thing," Sloan said.
It costs the city $35 per person for each ride.
Other business
Council member Mark Koger shared concerns about vandalized street signs. Street Commissioner Lee Walker said he would continue to look into effective removal treatments that won't harm the signs.
Council member Lynn Perdue announced that two more islands of landscaping have been completed in the median along Trojan Lane. Enhancements have been made from west to east. Work is done for the season, but will resume next spring.
EMS acknowledged receipt of $300,000 in America Rescue Plan (ARP) money allocated by county government to help fund emergency services for the upcoming year.
– Story by James Thurston (JThurston@TheCourierTimes.com) of The Courier-Times. Read more local stories at TheCourierTimes.com.