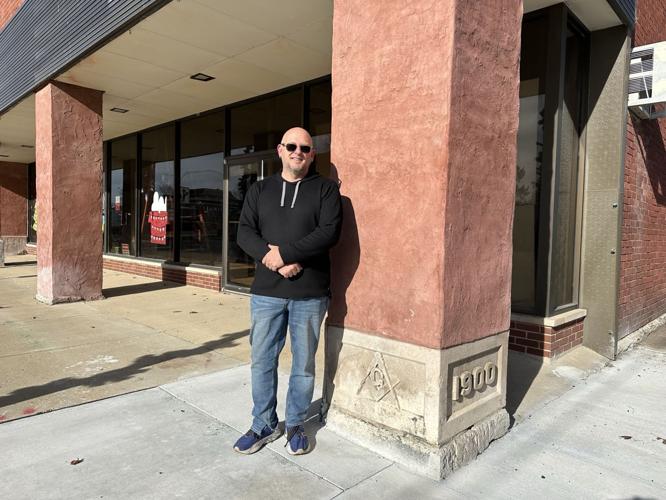 The red brick structure at the northwest corner of Main and Jefferson began in 1900 as Golden Rule Lodge No. 16, replacing the previous Masonic Lodge which was destroyed by fire the year before.
Today, 122 years later, entrepreneur Jonathan Jones is rapidly transforming the 3-story Knightstown landmark into the wedding venue and event center he envisions.
With help from family, friends and local contractors, Jones is gutting the former lodge's interior and plans to open by next summer.
Inspired by daughter's wedding
Jones has been remodeling homes since he was 21, including the southside-Indianapolis dwelling he currently shares with his wife, Kelly.
He learned much about construction from a 12-year stint with Arbor Homes, but had the most fun working alongside his father, Steve, in the liquidation business he grew up with.
Jones had no ambitions for large-scale projects, but his oldest daughter Alicia's wedding changed all that.
"When my daughter said she was getting married, I didn't care what I had to do. I'd do absolutely anything in my power to do what she wanted," the proud father said.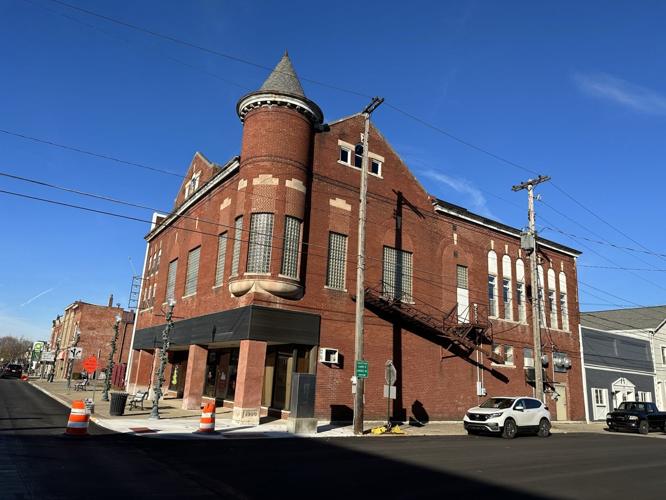 Alicia wanted to be married at a barn in Southern Indiana, and that's what happened.
However, Jones began wondering how a father might feel if his daughter had fallen in love with a wedding location but didn't have $6,000 to $7,000 to pay for it.
"To me, that's too much money," Jones said.
That's when Jones got the idea to develop an affordable place for couples to marry. And since losing his father to cancer in 2020 and feeling a void, Jones wanted a new project to call his own.
The search was on
Jones knows that barn venues are popular, but realized that they are only good for the warmer months. He wanted to offer something year round.
Jonathan approached his friend Joe Hall about the possibility of finding a suitable building.
"He was all for it. He was all on board," Jones said.
It was a good fit. Hall preferred the construction side, and Jones excelled at management. Together with Kelly, they began searching every listing they could find.
"We had been looking at buildings for probably a year," Jones said. He and his wife searched across Indiana, often driving two to three hours away.
The Joneses were in California in September for a wedding when destiny called. Jones was traveling Hollywood Boulevard when Hall sent him photos of the Knightstown listing.
It was love at first sight.
'Meant to be'
Jonathan and Kelly wasted no time touring the lodge upon returning from California.
Knightstown's Redevelopment Commission (RDC) had been looking for someone to take over the aging building. The roof was in terrible shape and was replaced, and the town had to make critical structural repairs.
While exploring the upper floors for the first time, Jones noticed boxes bearing the familiar orange tags of Christy's of Indiana – the very same auction house with which he and his father had been affiliated.
"I immediately thought of my dad," Jones said. "It was meant to be."
Jones attended RDC and town council meetings for two months. He put together the necessary presentations and determined what it would take to rehabilitate the building.
Once he got the green light, "We were ecstatic," Jones said.
He closed on the building and adjacent westside parking lot on Nov. 9.
Digging in
In just the first three weeks, Jones and his helpers had removed all the interior partitions and the suspended ceiling to reveal a spacious street-level space of about 4,600 sq. ft.
So far, the floor on the west side of the building has proven to be the worst surprise.
Years of water damage took a toll on the massive wooden beams that support the floor. They will be replaced today.
And although the building is generally strong, much will be replaced, including all the heating and cooling, plumbing, electrical and mechanical systems.
Jones posts photos of the demo work along with progress updates on his Facebook page "The Masonic Lodge Building in Knightstown."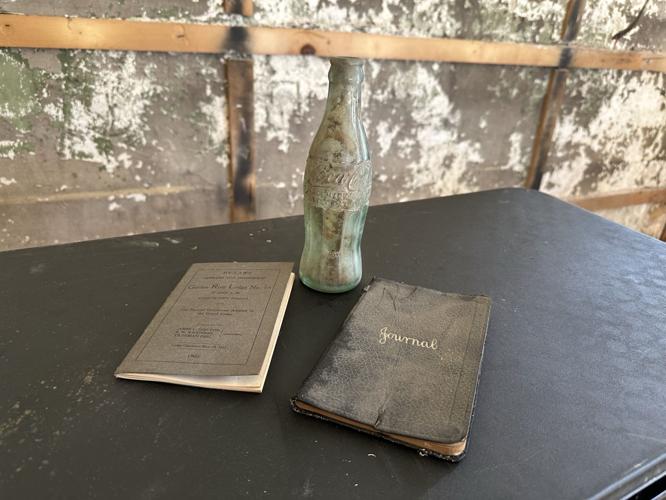 First floor
"The way we are going to do this building, it is going to be very, very nice," Jones said.
The main floor is the priority for the weeks ahead while it's too cold to work outside. The street-level space along Main Street which once housed a grocery store has plenty of room for wedding guests or anyone else who may use the facility.
New bathrooms, a kitchen, and a bar are in the works. The centerpiece will be a two-story bridal suite. Jones said he wants guests to have an ideal experience for their big day.
Jones rejects the idea that people should have to spend a lot of money when they want to have a wedding, and wants to make it affordable.
"I'm not in it to get rich, by any means," Jones said.
Given his extensive experience with liquidations, Jones has already acquired a warehouse full of brand-new light fixtures and other amenities that he will soon install throughout the refurbished building.
Upper floors
The second floor was where the Masons met for decades. Expansive southern windows overlooking historic U.S. Route 40 will eventually be restored to their original glory, providing an additional space so that multiple events can be held at the same time.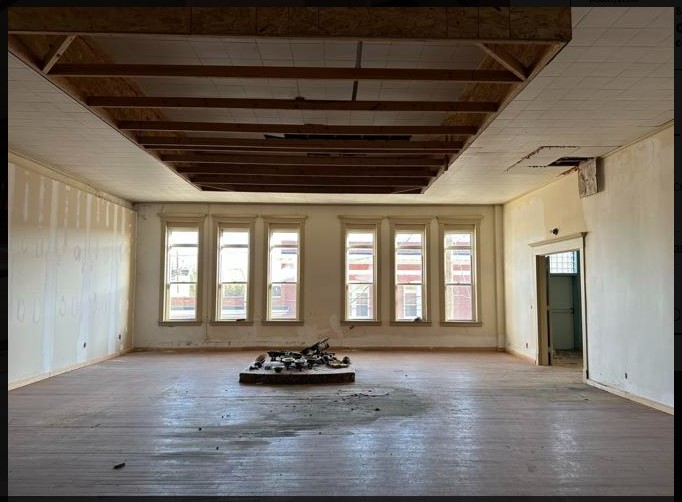 Jones plans to offer small studio-type spaces where families and friends can spend the night if they wish. Rather than renting the space for just one day, Jones wants to offer it for the entire weekend – or whatever works best for his guests.
The third floor is ideal for a party room with an additional bar and space for couches and TVs. It will be a place for people to unwind during the big weekend, according to Jones.
More than weddings
Jones wants to offer the venue for a variety of events besides weddings. He wants to host community events and stage his own events that coincide with downtown festivals.
Jones plays saxophone in a blues band called Piney Woods & The Strip Mall Wonder Band, and wants to have live music at his venue from time to time.
"My band is excited. I was like, 'I've got the house band already taken care of'," Jones said.
A good fit
Jones likes that so many complementary businesses are a few steps away – welcome destinations for out-of-town visitors spending a weekend in Knightstown.
He noted a hairdresser, bakery, bridal boutique, Mexican restaurant and winery all in the downtown area which he believes will be an added bonus for his customers.
He also loves the newly-paved U.S. 40 and how clean the town looks.
"We honestly couldn't have picked a better place," Jones said.
Moving forward
Jones said his father, Steve, was his best friend, best man at his wedding and business partner. "He was everything to me," Jones said.
What would his dad think about his son's extreme renovation?
"He'd walk in here and say 'you guys are crazy,'" Jones laughed. "But he would be very proud."
When the venue opens next year, it will be known as Mahogany Hall – a name chosen by Kelly.
One of Steve's business ventures was named Mahogany Plus. "Hall" will honor Joe.
With its fate preserved, the old Masonic building should be able to serve the community for years to come.
– Story by James Thurston (JThurston@TheCourierTimes.com) of The Courier-Times. Read more local stories at TheCourierTimes.com.