Maybe it's a craft beer aficionado looking for the next great local taste, a novice to beverages who wants to try something new, or a family looking for a fun downtown experience where they can connect with others.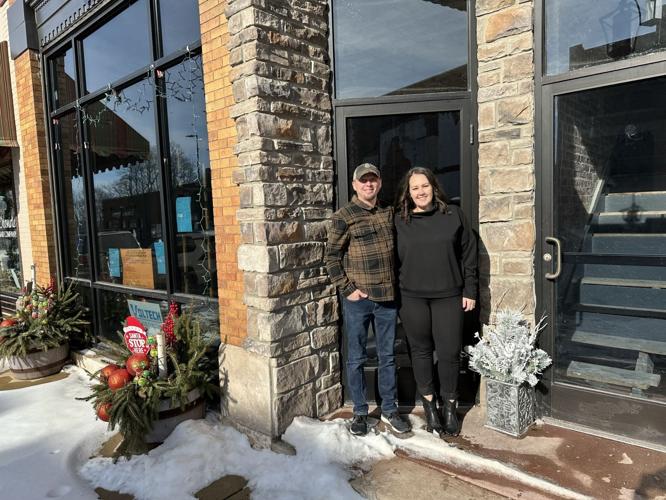 Whoever sits down, Mike and Teresa Schembre hope area patrons will be ready to embrace the Blue River Taphouse when it opens next year at 1120 Broad Street.
The couple have been working diligently to make connections with area businesses and hope to put their experiences to work in establishing the Blue River Taphouse as a destination people look forward to visiting.
"Our focus is on beer, wine, art and working with the community. We feel customer interaction is very important," Mike said. "Since we will not be carrying normal domestic beers, we want customers to come in and ask questions and try new things."
A legacy of experience
Mike has a lifetime of experience in the beer industry. Born and raised in Indiana, Mike's family had the first distribution license in Indiana after Prohibition ended in the early 1930s.
"His family background runs deep," wife Teresa said.
Like his father Jim, who at one point was CEO and COO of Monarch Beverage, Mike loves getting the word out about craft beer and enjoys making connections between local brewers and distributors.
Mike has had the opportunity to travel the country visiting independent breweries and taprooms. He lived in Washington State and Oregon for a decade and has a passion for beer education.
"I love working with people that aren't as educated with craft beer and wine," Mike said. "I believe there is a beer or wine for everyone. Typically they just haven't tried the right one. You just need the right person to help you with the experience. Even your die hard Bud, Miller and Coors drinker will have the option of a craft lager or pilsner."
The Blue River Taphouse is not Mike's first venture. He did a complete remodel and build-out of a restaurant, coffee house, taproom and small brewery in 2001 in historic downtown Kokomo.
Although the recession of 2008 resulted in having to close, Mike went on to help his sister open her own taproom and brewery just a few blocks down the street from his original location. She has been in business now for five years.
The Schembres want their customers to feel fully supported and always welcome.
Making local connections
Mike knows where to find the best sources for craft beer, and mentioned Crazy Horse Hops in Knightstown, which is the largest hop farm in Indiana. The Schembres strive to keep things local whenever possible.
"We have found many local Indiana wineries that we would like to work with," Mike said. "We would like to keep the wine fun and exciting like our beer list and change up our wines on a quarterly basis. Maybe keep a few fan favorites as a house red and white."
The Schembres believe community involvement and working with others is beneficial for all.
"Our concept is to work with other local businesses. As a small business it is harder and harder these days to survive. We believe if you work with other local businesses, you help them to thrive. Therefore we will thrive as well," Mike said.
A place for food
The Blue River Taphouse will not be a full restaurant, but plans to offer a limited menu of great quality.
As long as patrons purchase drinks, they are free to bring in food of their own choosing.
"We encourage customers to bring in other local establishments' food while they enjoy a craft beverage, either alcoholic or non-alcoholic," Mike said.
The Schembres said they were happy that Ky's Lunch Box, Primo Restaurant and other establishments were nearby, and envision that patrons could have the food of their choice delivered as they enjoy a beverage.
The taphouse will also offer fresh popcorn and a section for board games, making it a truly family-friendly destination.
A home for creativity
"Supporting local artists is also very important to us," Mike said.
A graduate of the Herron School of Art and Design in Indianapolis, Teresa is a talented painter and is planning a large mural for the inside of the taphouse which will tell the "grain to glass" story of the brewing process.
"There will be a large mural on one of the walls and we would like to display an array of local artist work also," Mike said.
Teresa has a large demand for pet portraits but paints a variety of subjects. She offers her artistic services to the public.
With his own artistic background in sculpting, Mike is making his own creative contribution to the new taphouse. He has been making tables from ash trees that grew on family land.
Mike has been making nine tables for the new taphouse that are each 10 feet long. A Knightstown sawmill has provided cutting and kiln drying, and Mike is taking care of the sanding and epoxy work.
It's just one of many ways the Schembres are investing in their new venture and creating a unique experience for their customers.
Opening soon
"We were hoping for a grand opening in January, but we have had a few setbacks with getting some building materials," Mike said.
Work inside is progressing, however, and they hope the Blue River Taphouse will be open by mid- to late February.
Having owned larger establishments previously, Mike believes the downtown New Castle location is just the right size for growing the business.
"Working with the city of New Castle and local businesses has been great!" Mike said. "Everyone is excited for us to open and are looking forward to more options for people to come downtown."
The Schembres have plans to offer outdoor seating in nice weather.
Visitors can find Blue River Taphouse on both Facebook and Instagram.
The mission of the Blue River Taphouse is "to support our local community and businesses and supply consumers with knowledgeable staff and the finest products accessible to our market through beer, wine and art."
– Story by James Thurston (JThurston@TheCourierTimes.com) of The Courier-Times. Read more local stories at TheCourierTimes.com.