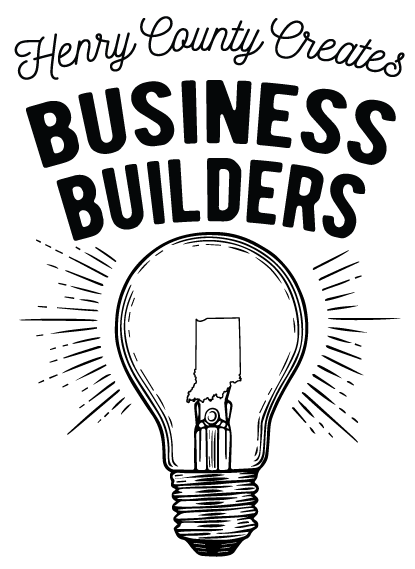 You have an idea. We have the resources to make it a reality. Sign up for updates and we'll let you know about a FREE workshop series. Attend these workshops, present your idea, and you'll be eligible to win $5,000 in resources for your business or business idea!
2022 Free Workshop Series
Kick-off Events: January 25. We will have 2 sessions available at 12 pm or 6 pm. This will be held at the Art Association of Henry County (218 S. 15th Street, New Castle, IN 47362). Lunch or heavy appetizers will be available depending on the session you attend.
The sessions: Think of this as an MBA crash course for entrepreneurs! The sessions begin at 6 pm and will be held at Ivy Tech Community College (3325 IN-3, New Castle, IN 47362) unless noted otherwise.
Business Builders Kick-off Events (January 25 at Henry County Art Association)- Come see what it is all about!
Your Ah-ha Moment (February 1)- What's your product or service and what is the opportunity that you want to seize?
How Are You Going to Get There? (February 8)- Learn how to create a simple business plan and business model.
Customers Are A Must (February 15)- Create a target market and customer profile and explore marketing.
Numbers, Numbers, Numbers (February 22)- Discover how to develop financial projections and discuss financing.
Put Some Action to It (March 1)- Explore aspects of operations including location and technology.
The People That Make It Possible (March 8)- Find the best ways to use your personal skills and when it's time to bring on help.
Present Your Idea
At the conclusion of the series, you'll present your idea to a panel of judges. If you are chosen as a winning entrepreneur, you may receive up to $5,000 in services for your product or business idea.
Launch Night (March 15)- The location will be determined at a later date. Launch Night is a pitching competition for all individuals that attended Business Builders to present their business ideas in front of local small business owners and community members to gain exposure and see what opportunities exist locally. Launch Night facilitates a community-based event that raises awareness of what it takes to be a local small business in Henry County.
The Business Builders contest is open to Henry County residents and those who own a business in Henry County. Other restrictions may apply.
Henry County Creates is an initiative of New Castle Main Street, Knightstown Main Street, New Castle Henry County Economic Development Corporation, and East Central Indiana SBDC with funding support from the Henry County Community Foundation.