When the Poynter brothers opened their Pro Shop for bicycles, skateboards, and paintball in New Castle, it created a new avenue for hobbies in New Castle.
Along with the New Castle Action Sports park, children and adults who love riding are now able to do what they love to do here in the community they live in.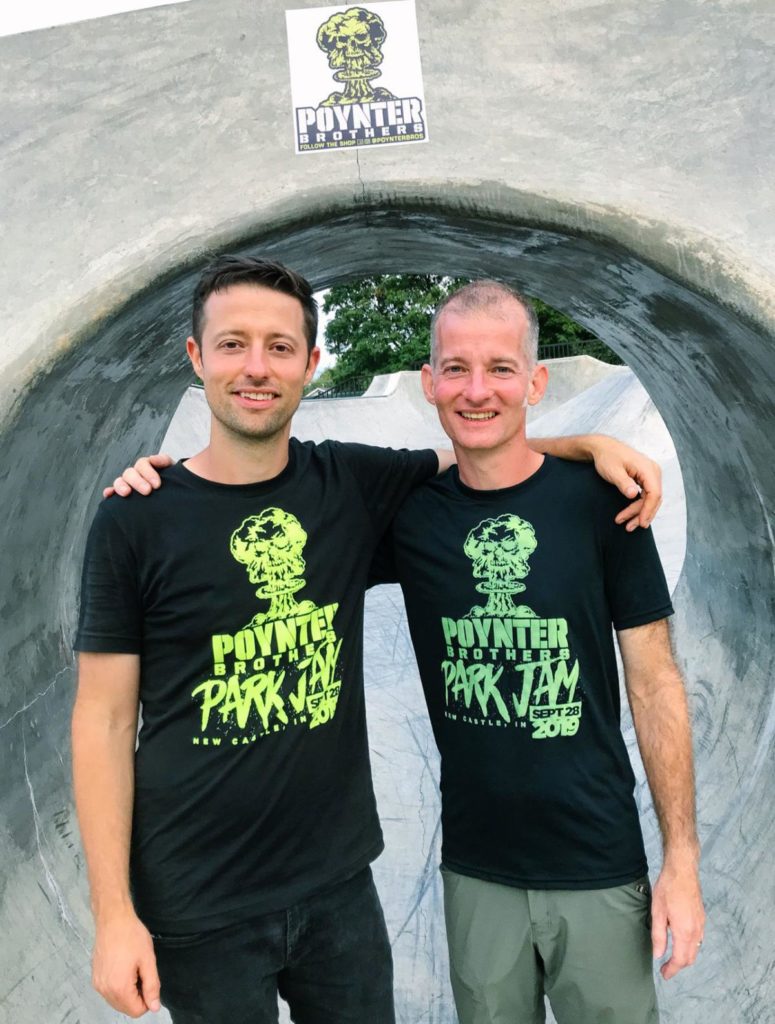 The Courier-Times spoke with the brothers, Kyle and Karl, about their business.
"We've actually been running a shop for bicycles, skateboards and paintball for over two decades which first began under our former name, Hardcore Sportz," Kyle said. "You may remember one of our old locations that was on Broad Street near downtown here in New Castle, along with our annual street jam events with hundreds of riders riding together through town. After a bit of a break to travel and focus on competing more with both bikes and paintball, we opened Poynter Brothers Pro Shop in 2017, located at 1909 Rex Court. We're excited about coming up on our five year anniversary at this location!"
The brothers were asked what gave them the idea to start the shop, and why they chose New Castle.
Karl said, "We've been fortunate enough to travel the world because of our extensive involvement with bicycle riding and paintball, but there's no better feeling than home and New Castle is home for us. There are a lot of really awesome things happening in New Castle, and we're thankful to be a part of this city."
Kyle added, "The shop is an extension of how deep our passions run for riding bikes and playing paintball. We don't just do these things, we truly live it. We felt it was a natural progression to create a space to share all of the positive things riding a bike, a skateboard or playing paintball can offer to an individual and our community. An active, healthy, fun and positive community is very important to us and we feel what we've created with PB Pro Shop acts as a perfect hub to help grow that."
The Poynter brothers put the "pro" in "Pro Shop." It is something people might not know about their business.
Karl explained, "It's a true pro shop run by professional athletes in both bicycles and paintball. We take great pride in offering genuine, friendly service no matter what your needs may be with bicycles, skateboarding and paintball.
"Whether you're a first-timer or someone who has been doing it all of their life, we cater to everyone, all ages and all skill levels," he continued. "For the bicycle portion of the shop, we offer all types from family, kids, mountain, road, BMX and more, as well as a full service workshop for all of your repair needs."
Karl talked about the impact the community has had on their business, and vice versa.
"We love our community and appreciate the support everyone has given us on this journey. We are big on community and getting people involved, active and having fun!" he said. "That is why we pour so much energy into our community events each year. We would like to say a big thank you to those who have ever stopped in the shop, liked or shared a social media post, told a friend or showed up at one of our events. If you have yet to stop in, we hope to see you soon! We can't wait to share what more we have in store for our community in 2022!"
Poynter Brothers Pro Shop is located at 1909 Rex Ct., New Castle.
The shop is open from 12-6 p.m. Monday, Tuesday, Thursday, Friday, Saturday and closed on Wednesday & Sunday.
The shop is very active on social media, and you can get all the information and updates from them on their Facebook & Instagram page @poynterbros.
– Story by Dakota Locker (DLocker@TheCourierTimes.com) of The Courier-Times. Read more local stories at TheCourierTimes.com.