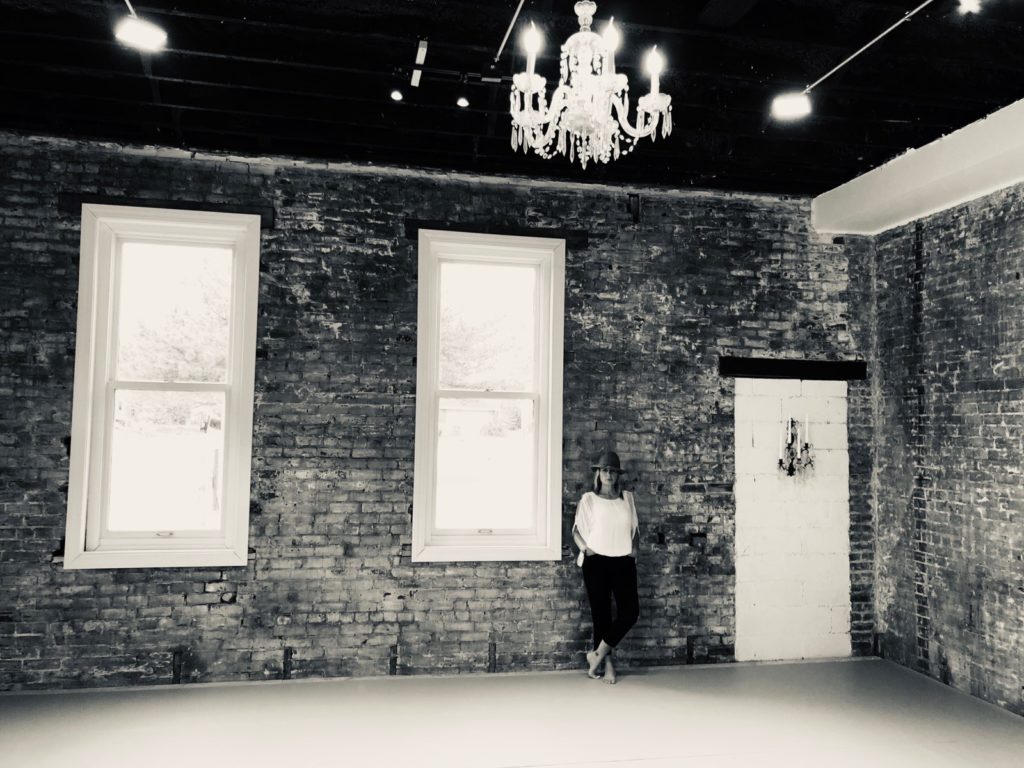 Growing up, a younger Kerry Brough never could have imagined that one day she would land and find home in Henry County, Indiana. Born in Cambridge, England, and raised in Ontario, Canada, Kerry has done and experienced a lot in her life, but small town living was not one of these experiences. That is until she met and married her husband, Logan. Together, they decided to settle in Mt. Summit and start a business together in downtown New Castle.
1822 Vintage Boutique & Dance Studio, located on the corner of 14th & Broad Street, is exactly what it sounds like; A vintage boutique with incredible, unique finds in the front, and a dance studio for classes such as kids dance, yoga, and adult tap in the back. Sleepy Jeans Tea Company is also located within the building. Although Kerry loves all aspects of the business, there is no denying where her true passion lies—within her studio and with the hearts of her dance students.
Kerry's Dance Career
Kerry has been dancing since the age of 3. She is a graduate of the National Institute of Broadcasting and has earned her masters with the Canadian Dance Teachers Association. She spent many years living and performing on Carnival Cruise Ships, and has choreographed for many well-known performers. 
"Dance has always been an escape for me," she shared. "It is the best form of communication, expression, I have ever known."
Growing up, she always wanted to become a civil rights lawyer or politician, and was passionate about helping others. When she realized later in life that politics and law weren't the right fit for her, she found a way to combine her love of dance, art, and entertainment with charity, and "with the help of friends in the industry has worked towards building a path for young visionaries to make a significant change in the world."  
Discovering a Downtown 'Vibe'
When initially arriving in Henry County, opening a business was not necessarily a part of Kerry's plan. After spending some time exploring downtown New Castle, however, she and Logan were inspired. Specifically, the charm and story of another downtown business, Twin Lions, reminded them of places they had visited in Europe. She likes to say the building they decided to purchase "chose them" instead of the other way around.
"I am seeing so many positive changes in downtown just in the short while that I have lived here," Kerry expressed. "When my husband and I travel we always go to the heart of the city and walk up and down the street. I feel that same vibe is happening here downtown. A place everyone who lives here should be proud of, and a destination for people who have yet to discover New Castle."
1822 Vintage Boutique & Dance Studio is a supporter of local artists and vendors, and is incredibly proud of the talented team of teachers leading their classes, including Hannah LaBoyteaux, Kara Cross, Andrea Atwood, Emily Hurst, Shelby Lowhorn, and Joee Hanson.
Kerry and Logan have found a sense of community and welcoming here in Henry County, and while a lot of locals like to say "love lives here," the Broughs like to think love brought them here, and they feel blessed to now call it home.
For more information regarding 1822 Vintage Boutique and Studio, visit www.1822in.com or follow them on Facebook and Instagram.