Plum Street in New Castle comes to end in front of a factory that has had multiple names, but most people know it these days simply as Grede.
The Courier-Times was given the opportunity recently to interview Human Resource Manager Katie Payne and Plant Manager Mark Brock and receive a tour of the foundry.
What they do
Grede is a foundry that produces safety-critical components for cars, trucks, and military vehicles.
The foundry makes parts for companies such as Ford, John Deer, CAT, Volvo, Case IH, and more.
Brock said, "They are making parts that they are shipping out every day that are going on vehicles. They can see the cars they are helping make driving down the road, so they get to be a critical manufacturing supply chain."
How they do it
Grede uses recycled scrap steel from other manufacturers with other materials to produce their products. The steel and materials are put into 15-ton furnaces to be melted. Once melted, they are poured into sand molds.
The sand molds shape the hot metal into the product they are producing. The metal then cools and solidifies.
After cooling, the part is finalized, cleaned up and shipped out to the customer is ordered.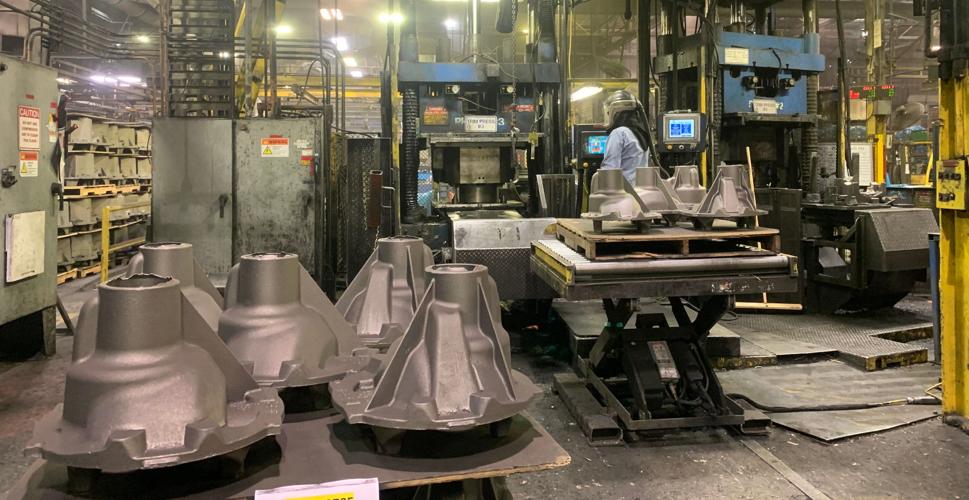 Payne said, "In our process, we start with nothing and create something. We aren't putting two components together or combining things. I think it is really fascinating."
Safety
Their process has components that could be dangerous to their employees, so Brock said that safety is their top priority.
He said, "We have a very good safety record. We have lots of procedures for each process in place to make sure we are operating as safely as possible. It shows in the results with our safety record."
Payne said that Grede also supplies its employees with free water and electrolyte popsicles in the warmer months.
She said, "They work hard in very high temperatures, so when it's 90 degrees outside, we want to make sure everyone is staying hydrated."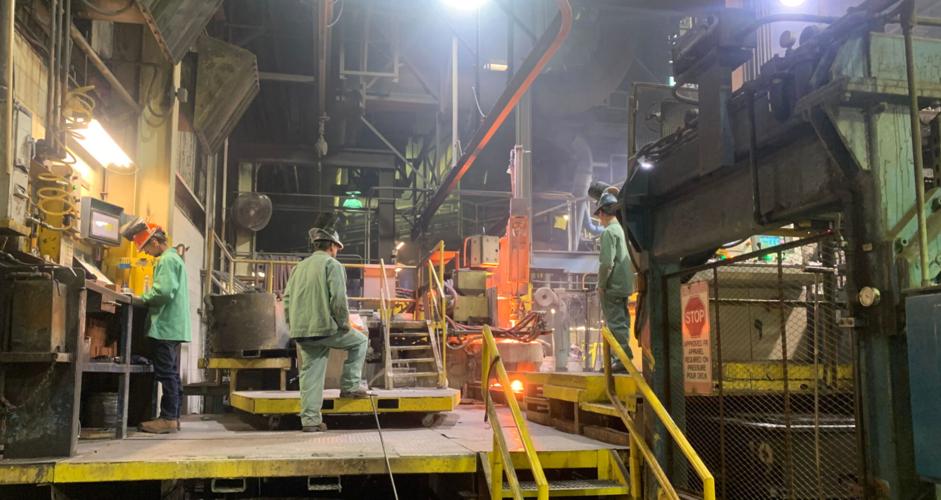 Innovation
Along with safety, Grede is also making strides in automation and innovation. The company has integrated automated cells that help employees become more efficient.
Brock explained that the employees are a part of the planning process for the foundry.
He said, "They help come up with those ideas. We bring in teams with the employees on the floor and take in their suggestions. They are the ones doing the work and they've got the best idea on how to do it better."
Vice President of Engineering, Program Management and Quality for Grede Foundries Susan Bear released a statement saying that the company is integrating Internet of Things technology and big data technology to improve quality control outcomes and flow analysis.
They will use artificial intelligence to monitor and collect data on mold count, pour temperatures, chemistry, production feasibility and more. Bear said that in five years automation will be running foundry production.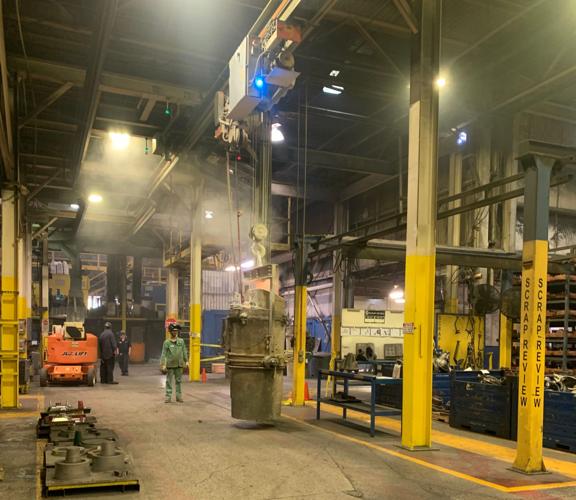 In the community
Grede is currently working towards being more involved in the local community. Payne said they are currently working with Ivy Tech Community College and local high schools to develop and grow the workforce.
She said, "Henry County is losing population because people don't think there is a lot to do here after high school. We are working with other employers, the schools, and Ivy Tech to really make sure people are aware of the great opportunities that are available if you stay here in Henry County."
Opportunities
Grede is currently hiring individuals for multiple positions. Available positions include maintenance repairer, maintenance electrician, pattern shop repairer, and production operator.
Brock said, "We are working hard to recruit and keep good employees here. We have a lot of good people here now."
For more information on Grede's employment opportunities, visit https://www.grede.com/careers/.
– Story by Haley Segarra Torres (HTorres@TheCourierTimes.com) of The Courier-Times. Read more local stories at TheCourierTimes.com.