Lt. Gov. Suzanne Crouch commends local efforts
Henry County is officially a designated Broadband Ready Community. Indiana Lt. Gov. Suzanne Crouch made the formal announcement Wednesday afternoon during a visit to the Henry County Courthouse.
Broadband is also known as high-speed internet. Crouch called it the next great economic frontier and said if expansion continues, broadband could contribute $12 billon to the state's economy.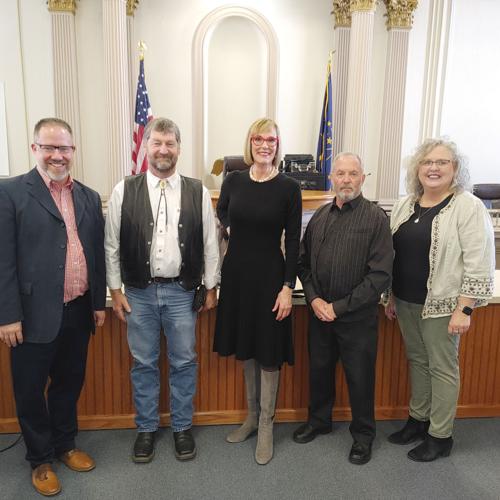 The Broadband Ready Communities Program was created in collaboration with the Indiana Broadband Office (IBO) and the Office of Community and Rural Affairs (OCRA) to encourage broadband development throughout Indiana.
Henry County is Indiana's 76th designated Broadband Ready Community. The certification comes following Henry County's adoption of a Broadband Ready Community ordinance.
"It is encouraging to witness great collaboration in communities here in Indiana," Crouch said in a press release. "Henry County's investment and prioritization in enhancing their quality-of-life opportunities through broadband expansion is an important step in connecting all Hoosiers…"
Even though she's visited Henry County on previous occasions, Crouch expressed delight at being in the historic 1865 courthouse. She went on to congratulate local officials, especially the Henry County Commissioners, for making the Broadband Ready designation possible.
"On behalf of the Henry County government, I am pleased to celebrate earning the Broadband Ready designation," Henry County Commissioner Bobbi Plummer said in the press release. "We're working hard every day to build a better Henry County. We appreciate this partnership with Lt. Gov. Crouch and the State of Indiana."
The Broadband Ready Community certification "sends a signal to the telecommunication industry that a community has taken steps to reduce barriers to broadband infrastructure investment," the press release said.
For Crouch, connecting Hoosiers is important, especially since the onset of the COVID-19 pandemic when connectivity was no longer a luxury, but a necessity.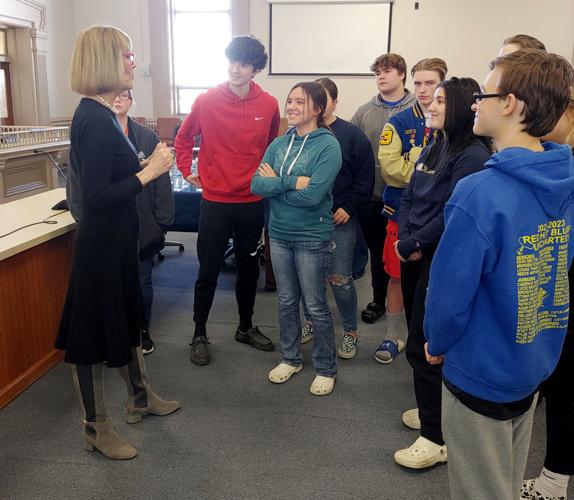 Whether it's a grandmother who wants to video-chat with her grandchildren, or a small business owner who wants to market their company, broadband access matters.
"It's people's lives you are talking about," Crouch said. "It's those real, personal stories. Not just numbers."
Corey Murphy, president and CEO of the New Castle-Henry County Economic Development Corporation, said receiving this designation was a vital step for the community and indicates the area is prepared to be a good business partner.
Attending Wednesday's press conference was Chad Niccum, vice president of sales and marketing for New Lisbon Telephone Company (NLTC) and New Lisbon Broadband & Communications (NLTB).
Niccum said NLTC and NLBC services about 3,300 customers in Henry, Wayne and Randolph counties, as well as customers in northern Fayette and Rush counties. Besides individuals, the company also provides broadband access to businesses.
"This goes to show how different providers can work together," Niccum said of the Broadband Ready designation. "We can make use of different grants available throughout Indiana to bring broadband to rural Henry County."
For more information about Broadband Ready communities, visit www.in.gov/indianabroadband/broad band-ready-communities -program/.
– Story by Katie Clontz (KClontz@TheCourierTimes.com) of The Courier-Times. Read more local stories at TheCourierTimes.com.