Dry fertilizer facility opening soon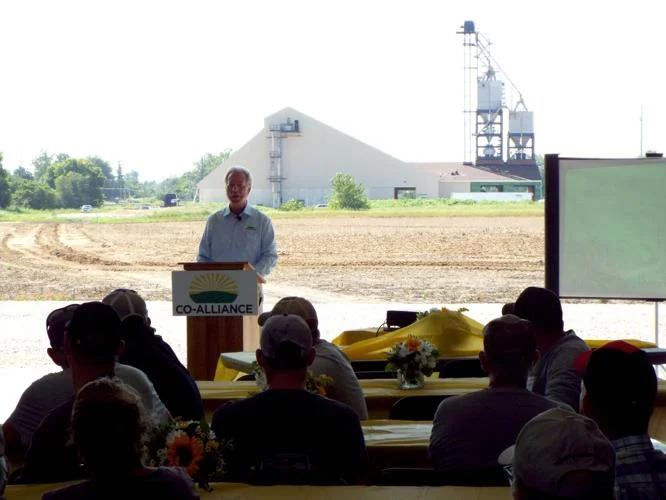 It was a cool late-August morning, hinting at harvest season coming soon.
Monday, farmers from all corners of the county gathered north of New Castle to learn about Co-Alliance's newest facilities.
Co-Alliance Mt. Summit is located on Ind. 3, where the highway meets the train line. This convergence is going to play a big role in the dry fertilizer hub being built just to the south.
Co-Alliance, an ag and energy cooperative, broke ground on its liquid fertilizer loadout facility in late 2022. The $1.5 million project opened this spring and was the site of Monday's lunch.
With the garage doors raised, Phase 2 of the project was framed in the background: a $13.5 million dollar dry fertilizer hub and rail spur.
The hub is being designed to hold 26,000 tons of dry fertilizer. The rail spur will connect to the active train line to take the Co-Alliance product to retail spots around eastern Indiana.
Co-Alliance President and CEO Kevin Still opened Monday's open house at the Mt. Summit location.
Still explained that the liquid facility allows farmers to easily get the fertilizers, herbicides, insecticides and fungicides they need for their fields.
"It's quick, it's efficient and it's pretty safe," Still said.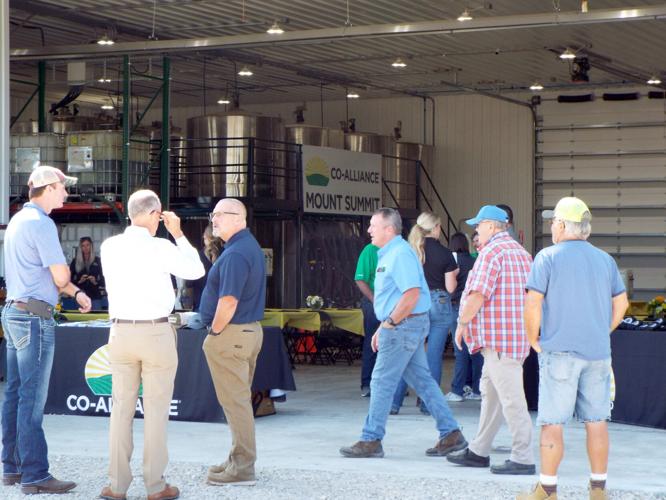 The dry fertilizer facility will serve Henry County farm families better and quicker, too, he said.
"There will be a state-of-the-art hot mixing system over the top," he said. "One tower will be mixed, one tower will be straight product."
Still said the Phase 2 project should be ready to go by October.
Henry County farmer Brian Becker, a Co-Alliance board member, also spoke Monday. He reminded the assembled farmers of Co-Alliance's 100-year history.
"To us, it's all about service," Becker said. "How we treat our neighbors. How we find solutions in changing landscapes."
Becker said the Mt. Summit location matched Co-Alliance's goals to better serve farmers.
"We've made a $15 million investment in Henry County and our farmer-members in this area and beyond," he said. "This investment is proof that the cooperative spirit is alive as well at Co-Alliance."
East Crops Manager Facility Manager Royce Cook thanked his Mt. Summit facility staff and crew for the work they do.
"We truly want to partner with you to meet your goals and your expectations for your operations," he told the farmers gathered Monday.
Cook said planning started two years ago to develop the Mt. Summit facility. Thanks to the Co-Alliance crew, the liquid loadout was up and running in time for planting.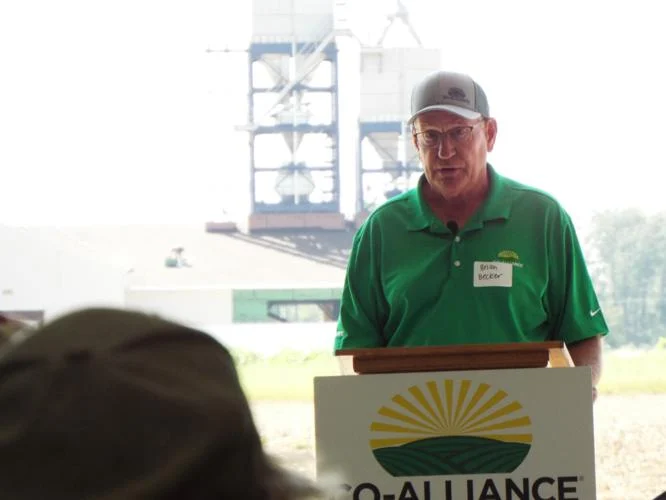 "We're very excited about this facility. It's allowed us to load with greater accuracy, efficiency and timeliness which affects your operation," he said.
Cook said a more efficient cooperative lets farmers get back to their fields quicker.
"We want to partner with you. We want to do our best to serve you to the utmost," he said.
The attendees broke for a pork chop lunch catered by Grand Grilling. They then heard from Crop Nutrient Manager Emily Thrasher and Director of Sustainability Caleb Smith.
Co-Alliance also offered a tour of the new dry hub as part of Monday's open house.
CEO Still also mentioned the new Legacy feed mill that will be built in Millville. The Courier-Times will have more information about this project in Thursday's paper.
– Story by Travis Weik (Editor@TheCourierTimes.com) of The Courier-Times. Read more local stories at TheCourierTimes.com.