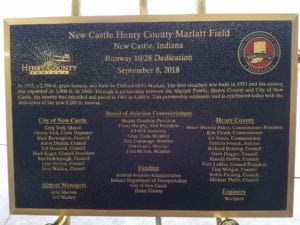 Sixty-six years ago, in 1952, Clifford "Bill" Marlatt built an airport with a 2,350 foot grass runway.
Bill, now 91 years old, was on hand Saturday as a new 4,200 foot runway on County Road 400 South in New Castle was dedicated despite rainy weather and overcast skies.
A plaque bearing the new name, New Castle Henry County Marlatt Field, was unveiled during the festivities.
The plaque reads, "In 1952, a 2,350 ft. grass runway was built by Clifford (Bill) Marlatt. The first structure was built in 1953 and the runway was expanded to 3,000 ft. in 1960. Through a partnership between the Marlatt family, Henry County and the City of New Castle, the runway was extended and paved in 1965 to 4,000 ft. This partnership continues and is celebrated today with the dedication of the new 4,200 ft. runway."
The plaque was made possible by the New Castle-Henry County Board of Aviation Commissioners (BoAC) and Hinsey-Brown Funeral Service. It lists representatives involved in the expansion process, including city and county officials, airport managers, those on the BoAC and engineers.
Corey Murphy, president and CEO of the New Castle-Henry County Economic Development Corporation, who also serves on the Board of Aviation Commissioners, spoke during the dedication ceremony.
"The weather today is kind of like the story of this airport," Murphy said. "We're going to put our heads down and persevere."
Bill Marlatt agreed.
"It's a bad day for flying," he said of Saturday's weather.
Surrounded by family, Bill said becoming a pilot was one of his proudest moments in life. And his favorite plane to fly? That would be an Aero Commander, which is a twin-engine cargo and passenger plane.
Many members of the Marlatt family were present Saturday, along with friends, elected officials and government representatives.
"It's quite humbling," said John Marlatt, Bill's son. "We aren't as far as we wanted to be, but we are on the way there."
John said having his dad present for the dedication ceremony was the most important part of the day.
The airport's goal is to expand the runway to 5,000 feet or more, which will allow for increased commerce in the community, according to Maurie Goodwin, who serves as president for the New Castle-Henry County Board of Aviation Commissioners.
During the dedication, Murphy read a letter from U.S. Senator Joe Donnelly, who was unable to attend.
"…It is my pleasure to offer my sincere congratulations on the dedication of the New Castle Henry County Marlatt Field runway," Donnelly wrote. "Today is a day of celebration as this new resource becomes available for residents of New Castle, Henry County, and all who travel throughout the state of Indiana."
"This new runway will assist the airport in improving the efficiency of operations and continuing to accommodate as many travelers and aircraft as possible," Donnelly continued. "The addition of this new resource will positively contribute to the economic health of the community by helping to attract and retain quality businesses in the region. I commend your tireless work at both the state and federal levels to navigate numerous obstacles to make this new runway possible. I am proud of your continued efforts to upgrade your facilities and your commitment to serving our state."
The airport is located three miles southeast of New Castle at 2912 E. County Road 400 S. For more information, call (765) 529-7903.
Source: The Courier Times, September 11, 2018
– Story by Katie Clontz of The Courier-Times. Read more local stories at www.thecouriertimes.com