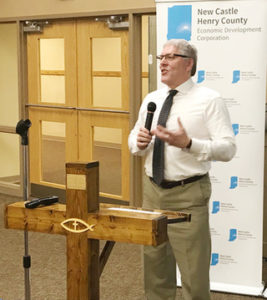 Henry County is on the right track for future economic development. The train may not be moving as fast as some would like, but it's headed in the right direction.
Encouraging words for the New Castle-Henry County Economic Development Corp. came not from local officials, but a highly respected expert and author on the subject.
Eric Canada, who grew up in nearby Portland, Ind., said that despite the fact the EDC's shell building continues to sit empty more than five years after it was built, it is a rare and valuable commodity many others don't have.
"Eight-five percent of companies start out looking for an existing building," Canada said. "Why? I know how it is zoned. I know it exists, therefore I don't have to go through any process that could delay me getting up to operation. It's all about time. It's all about their time, their ability to make a decision and get into business quickly.
"If they're looking at raw ground without infrastructure, they're looking at two years before they can get the infrastructure in to get started," Canada said. "That's why they want the existing buildings, fewer regulatory issues to deal with, a known neighborhood."
That economic development truth makes the New Castle-Henry County EDC effort stronger than most, according to Canada.
"If you're in this business, where do you want to be? You want to be in the 15 percent that's selling to the 85 percent, not the 55 percent that's selling to the 5 percent. And you have that. You have that available building and it's produced a result. It's been there for awhile, but it's produced jobs, even though they aren't physically within the walls of that building.
"It brings people to this community who would not be here otherwise. You can't fall in love if you don't meet them. You can't have them fall in love with your community, if you can't get them into the community. That's what buildings do in economic development."
In fact, Canada said because of the information age and the internet, communities are often crossed off a prospective business expansion list before community officials know they are being considered.
"Back in my dad's day, they had to start researching your community by calling your community," Canada said. "So it was at the very beginning of the research. We had time to work with them and convince them our community was the right place to do business. Now it's only when we get to the real estate piece that they need to come to the community if at all. Our ability to interact with the people who have what we want – the jobs – has been dramatically cut back."
Canada also offered encouragement for the EDC's efforts at encouraging quality of life amenities like trails.
"Economic development doesn't just have to be about attracting jobs," Canada said. "It's about the environment we create that allows that to happen. Things that don't look like business attraction are critical pieces of creating the environment. That's the critical piece."
Canada, a sought-after speaker in the economic development realm, started working in economic development when he was a high school student. He said even now, the learning continues.
"You can't get anywhere without continuing to learn," he said. "That's what this job has been for 30 years."
Canada also offered praise for New Castle-Henry County Economic Development Corp. President and CEO Corey Murphy.
"Corey hides a lot of hard work," he said. "You don't see it. You hear some of the numbers. You ask about who's new and when are we going to get the next opportunity. You don't think about the challenges he faces on a regular basis."
– Story by Darrel Radford of The Courier-Times. Read more local stories at www.thecouriertimes.com.