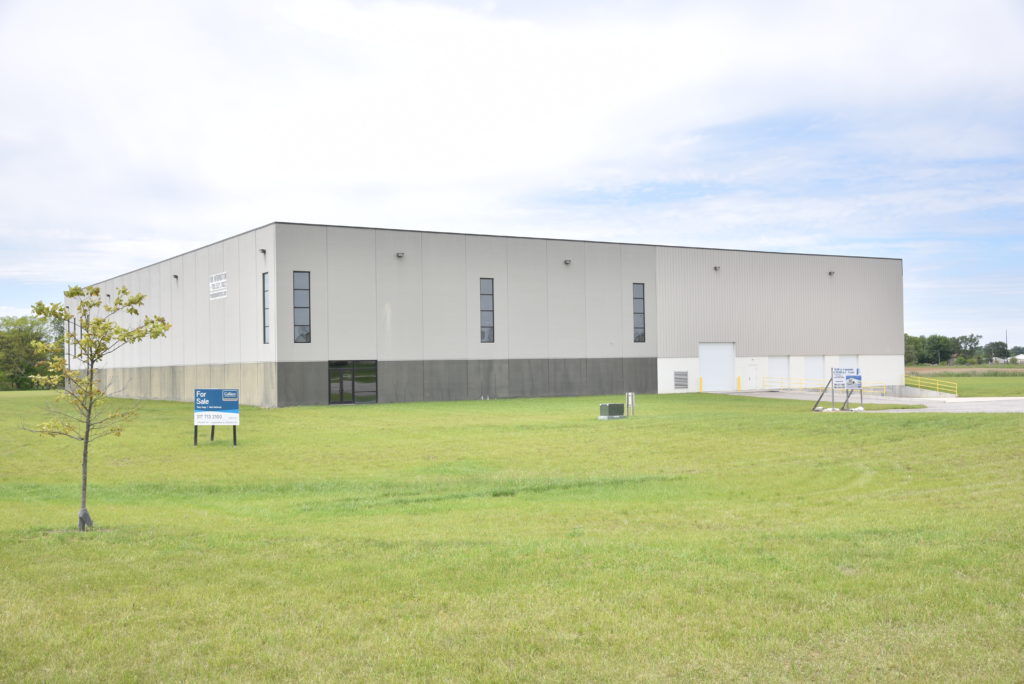 Could the industrial park's shell building have a tenant soon? Will Henry County soon have two brand new tax increment financing districts?
Those questions emerged recently from redevelopment commission meetings. The potential answers are exciting, according to local officials.
New Castle-Henry County Economic Development Corp. President Corey Murphy was not at liberty to confirm anything Friday but he did say "there is a potential project" at the shell building. Earlier this week, Murphy asked for and received two approvals from the Henry County Redevelopment Commission:
• That the RDC forgo the previously-required reimbursement for the 12.6 acres of land the shell building sits on, essentially reducing the price of the building from $1.8 to $1.6 million.; and
• That the RDC contribute $200,000 to the project, further bringing the price down to $1.4 million.
"If everything goes right, we would hope to introduce the project at the June meeting of the Henry County Council," Murphy said, "and ask for tax abatement at their July meeting."
The shell building – at times a point of debate concerning its value and at other times a proven magnet for attracting business expansion inquiries – was completed here in 2013. Murphy has continually told local officials it has done what shell buildings are designed to do.
"It's our billboard, but so much better," Murphy said.
Murphy likes to quote site selection consultant Jay Garner, who advises "You can't sell from an empty wagon. So remember to sell your leadership on my longtime mantra: 'No product, no project.'"
And yes, if indeed a tenant has been found for the shell building, Murphy said construction of another one may become a goal down the road.
"We're going to take a strong look at that," Murphy said.
NEW TIF DISTRICTS?
Meanwhile, members of the Henry County RDC are pondering formation of new Tax Increment Finance districts, specifically to help the Hissaydar Site and Marlatt Field, the local airport.
A Tax Increment Financing district (TIF) is a special purpose area that provides a structure to reinvest added tax revenue from new development back into the area where it originated. The goal of a TIF is to stimulate new private investment and thereby increase real estate values.
Murphy said the Hissaydar Site consists of approximately 143 acres located on the northwest corner of Road 300S and State Road 103. The site was re-zoned to Light Industrial and recently completed the Duke Energy Economic Development Site Readiness program.
"Currently, it is the only site within our marketing inventory with a parcel size between 50 and 130 acres," Murphy said. "The site lacks water and sewer infrastructure. Preliminary estimates to extend water service are $600,000 and $3.4 million for sewer service. Existing local government and municipal utility budgets are insufficient to fund this infrastructure expansion. Tax increment finance associated with new industrial growth at this site would help leverage other funding opportunities for infrastructure expansion."
Hissaydar Investments LLC of 2548 N. Ind. 3, New Castle, currently uses the parcel as farm land but asked for and received rezoning last April from rural residential to light industrial. In previous discussions, economic development officials have stressed the rezoning could help attract new business, thanks to its proximity to existing electric, water and sewage infrastructure.
As for New Castle-Henry County Marlatt Field, Murphy said creating a TIF area could provide an additional self-funding revenue stream as development occurs around the airport, such as recently discussed new hangar construction.
"This would not replace the city and county grant matching, but it would provide funds for projects that are outside current local government budgeting capacity, such as an automatic weather observing station," Murphy said. "The continued growth and development of the airport is critical to our community's quality of life. A long history of city, county and private collaboration has produced momentum at the airport. In my opinion, we must continue to aggressively pursue the expansion of this local transportation asset. As you know, the bulk of construction financing comes through federal and state grants with the county and city sharing in the local match."
Murphy explained the official approval process of creating new TIF districts consists of the Redevelopment Commission, Planning Commission and Board of Commissioners taking action. It also includes a public hearing.
"I expect the approval process to officially start in June with the RDC adopting a preliminary resolution," Murphy said. "The Board of Commissioners considers this issue twice: ratifying Planning Commission approval and also after the RDC holds a public hearing. I would expect this to come to you later this summer."
– Story by Darrel Radford (DRadford@TheCourierTimes.com) of The Courier-Times. Read more local stories at www.TheCourierTimes.com.