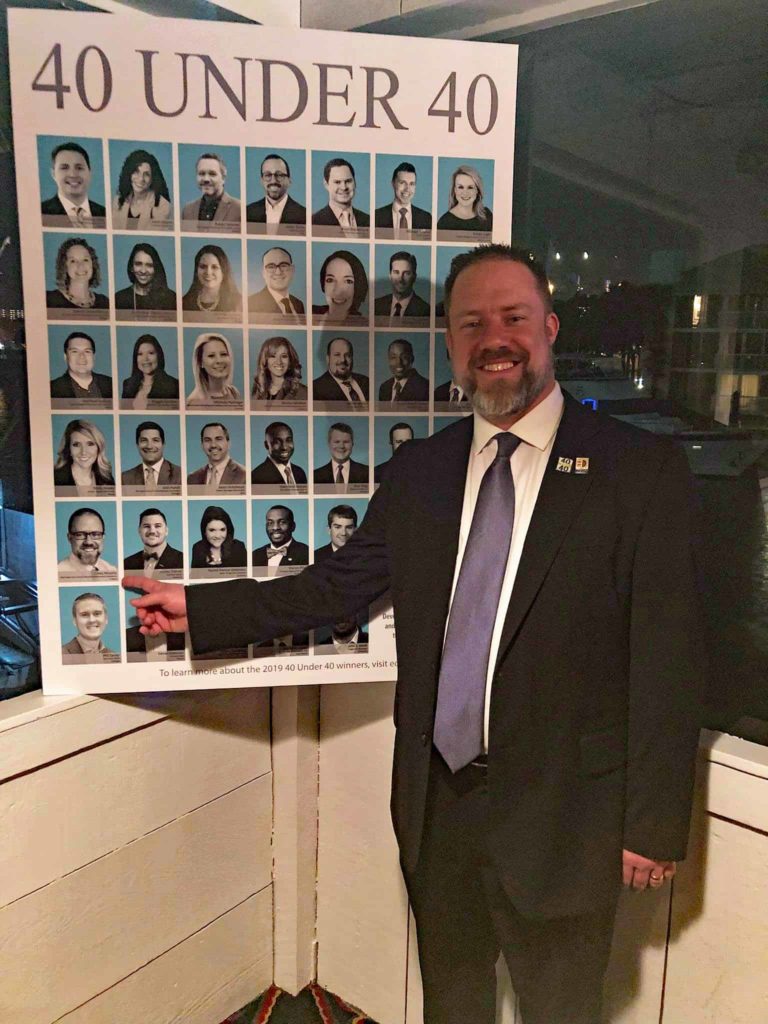 Fort Lauderdale, FL – Corey Murphy, President of the New Castle-Henry County Economic Development Corporation, has been selected as a winner in the economic development profession's 40 Under 40 awards, the only award of its kind recognizing young talent in the economic development industry.
An independent five-member selection committee chose the winners from a pool of more than 170 qualified candidates based on their exceptional accomplishments and contributions to the economic development industry. The award's program was managed by Development Counsellors International (DCI), a New York-based firm that specializes in economic development marketing, and Jorgenson Consulting, a leading national executive search firm serving organizations in economic and community development industries.
Murphy joined the New Castle-Henry County Economic Development Corporation in January 2013. Prior assignments include nearly six years as the local economic development official in Jefferson County Indiana and service with the Indiana Office of Community & Rural Affairs.
"We are lucky to have Corey and his family here in our community. This award indicates others recognize his considerable talents," noted Jon Madison, Chair of the NC-HC EDC Board. "Our Board thinks very highly of him and we appreciate his efforts to attract and retain businesses and investment in Henry County."
Murphy is a magna cum laude graduate of the University of Evansville and has successfully completed both the Indiana Economic Development and Building Better Communities Courses through Ball State University. He is a 2009 graduate of the University of Oklahoma's Economic Development Institute. In 2017, he achieved the designation of "Certified Economic Developer" from the International Economic Development Council.

In addition to his work with the EDC, Murphy serves in the community with the Eastern Indiana Federal Credit Union Board, New Castle Henry County Board of Aviation Commissioners and New Castle-Henry County Kiwanis. He resides in New Castle with his wife and three sons.
"The 40 Under 40 Award is designed to identify the economic development profession's rising stars. These young economic development professionals represent the future of our industry," said Julie Curtin, president of DCI's economic development practice. "The selection committee had a challenge selecting only 40 winners, but we are delighted by the smarts, initiative and game-changing mindset represented in these finalists. Economic development is in good hands with these young leaders, and Corey is certainly no exception," Curtin added.
"The achievements of these talented and committed professionals show that economic development has an awesome future," said Todd Jorgenson, managing director and principal of Jorgenson Consulting, Inc. "Partnering with DCI this year to recognize these passionate young men and women has been an honor. Congratulations to each of them."
"The awardees this year embodied passion for the profession and a commitment to excellence, innovation and place-making," said Chris Camacho, president and CEO of the Greater Phoenix Economic Council and 40 Under 40 selection committee member. "The field of economic development is evolving and we're seeing many people rise up to assure this profession is on the edge and inclusive. Congrats to the new class of 40 Under 40."
DCI and Jorgenson officially announced the winners on January 27 at an awards reception during the International Economic Development Council Leadership Summit in Fort Lauderdale, Florida and will feature profiles of each on the awards website.
For more information on the 40 Under 40 winners, visit econdev40under40.com.