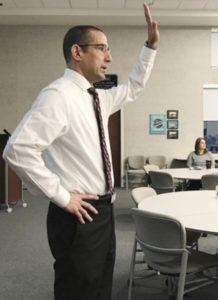 When people in New Zealand and Australia discuss "crowns," they're not always talking royal figures, luxury hotels or dental procedures. Often what they are referring to are forklifts.
Forklifts made by a certain company. A company that has literally given a much-needed lift to the local economy and added a new chapter to a proud manufacturing heritage.
Lance Ibrahim, director of manufacturing for Crown Equipment Corp., was guest speaker at Thursday's New Castle-Henry County Economic Development Corp. meeting.
Ibrahim — who oversees safety, quality, growth, operational excellence and employee development for the company in Indiana, Ohio and North Carolina — told the above story symbolizing how well-known Crown is known internationally.
"Our marketing presence is so great in New Zealand and Australia, a forklift is called a crown," Ibrahim said.
EDC members learned of the steady growth Crown has had since taking over the former Metaldyne building in 2011. What began with a mere 35 employees has now grown to more than 300. As many as 350 forklifts per day are made here.
"Why does the world need so many forklifts?" Ibrahim asked.
The answer comes with both a dot and a com.
Ibrahim said so many people are buying things online and expectations of quick delivery made forklifts a major necessity for companies like Amazon and others.
"I'm from Chicago," Ibrahim said, "and when my brother orders stuff, that afternoon it's there. You know how many forklifts it takes to do that across the country?"
New Castle's Crown facility is just part of a company that's grown to 15,000 employees worldwide. And it's still growing, according to Ibrahim.
"I've been with Crown seven years and we've hired 1,000 people per year each year I've been here," Ibrahim said.
An inspirational irony raises the Crown story even higher on the interest charts. Ibrahim said this third-generation company didn't even make forklifts when its doors first opened.
"They started by making flue controls for furnaces," Ibrahim said. "Then they got into television antenna rotators. I'm sure there are some folks who remember that before the days of remote controls.
"You had to go up on the roof to turn the antenna to get a particular channel to tune in better," he continued. "Then they made a little remote control that moved the antenna from inside the house."
But for Crown, necessity became the mother of invention – and an entirely new direction for the company.
"They were building things themselves that their own employees couldn't move very easily," Ibrahim said. "They used other people's equipment to do that, but found that equipment wasn't very good. Some of it leaked hydraulic fluid like crazy."
So, Crown started making forklifts because the company needed them for its own operations.
"Now we're one of the world's leading manufacturers of forklifts," Ibrahim said.
Crown's impact on New Castle and Henry County goes beyond just economics, however. It's helping keep young people here.
Shelley York, Crown's human resources manager, said the company has had an effective community partnership with the New Castle Career Center since 2014. York said eight interns are now full-time lathe operators. Crown is also working with the center's highly acclaimed welding program.
Mayor Greg York praised the company's efforts.
"What many people don't realize is that Crown has donated thousands of dollars in equipment, welders and lathes to help train our kids," York said. "Not only have you provided jobs for us, but you've been very involved in that training."
Crown's educational impact even touches elementary school students. With the company's help, Eastwood Elementary School has developed a strong robotics club.
"They were the most attentive group we've ever seen," Shelley York said of the excited Eastwood kids.
The overriding message, to borrow a phrase from Mark Twain, is that reports of manufacturing's death have been greatly exaggerated.
"Don't be scared of manufacturing," Shelley said she tells the kids. "We're growing. While other businesses may be having a hard time finding job applicants, we aren't. You can have a really great career without going to college."
It is apparently a great place to work, judging by the number of seasoned employees on the job.
"I was amazed at the number of 30-year and 40-year employees you had," EDC Board member Mike Broyles said, referring to visits he's made to other Crown plants. "I was also amazed at the cleanliness of all your plants."
Crown's arrival has also strengthened the facility it inherited from Metaldyne.
Carlos Suarez, plant manager of the New Castle facility, said more than a facelift was needed to transform the building from car parts-making to forklift creating.
"A lot of concrete work had to be done at the plant," he said. "It's still in process of being done."
Suarez said 380 tons of steel were taken out of the building by Crown employees when the company first arrived here along with 18 tons of scrap aluminum copper. Another 15,000 tons or so of concrete was crushed.
But today, Crown has made its own mark on the I Avenue location, site of so many manufacturing success stories of the past.
"We do assembly, bring in products from our overseas operations, then customize and complete them for our customers in North and South America," Suarez said.
Shelley York said that Crown was frequently hiring. Those interested are encouraged to visit crown.jobs on the web.
– Story by Darrel Radford of The Courier-Times. Read more local stories at www.thecouriertimes.com.