NineStar Connect is continuing to spread high-speed internet throughout rural Henry County thanks to the state's new Indiana Connectivity Program.
The Indiana Office of Community and Rural Affairs (OCRA) recently awarded a total of $88,337 to NineStar Connect, through the co-op's subsidiary Central Indiana Communications.
Of that sum, $81,600 will be used to connect Henry County addresses to the new fiber optic, broadband internet infrastructure. The remaining funds will go to addresses in Hancock and Rush County.
NineStar has been building out the fiber infrastructure around Shirley and Kennard for a couple years now.
In late 2020, NineStar Connect teamed up with Henry County Rural Electric Membership Corporation (REMC) to undertake a half-million dollar project in the area.
The requested grant from OCRA's Next Level Broadband program was $361,711, with a local match of more than $194,767, for a total project cost of $556,478. NineStar and Henry County REMC each provided 50 percent of the matching grant.
Broadband infrastructure investment is part of Henry County's long-term comprehensive plan, which stresses the importance of bringing reliable high-speed internet to rural areas of the county.
George Plisinski, II, Director of Telecom Operations at NineStar Connect, said the Next Level Connections Project was more successful than planned.
The original project installed 15.56 miles of optical fiber up and down rural Henry County roads. The goal was to connect 70 rural homes and farms to the high-speed network.
"Because of this infrastructure investment by the State of Indiana via the Office of Community and Rural Affairs, Henry County REMC, and NineStar Connect, an additional 151 additional homes, farms, and businesses were passed," Plisinski said, "totaling 221 who are now eligible to receive 1Gbps symmetrical services in rural Henry County enabling distance education, telehealth, and work-from home opportunities along with rural-outsourcing into the gig economy."
"1Gbps symmetrical" means 1 gigabit of information can be upload or downloaded along the fiber connection every second.
Plisinski said this upgrade is future-proofing the area to support growth and technological advances.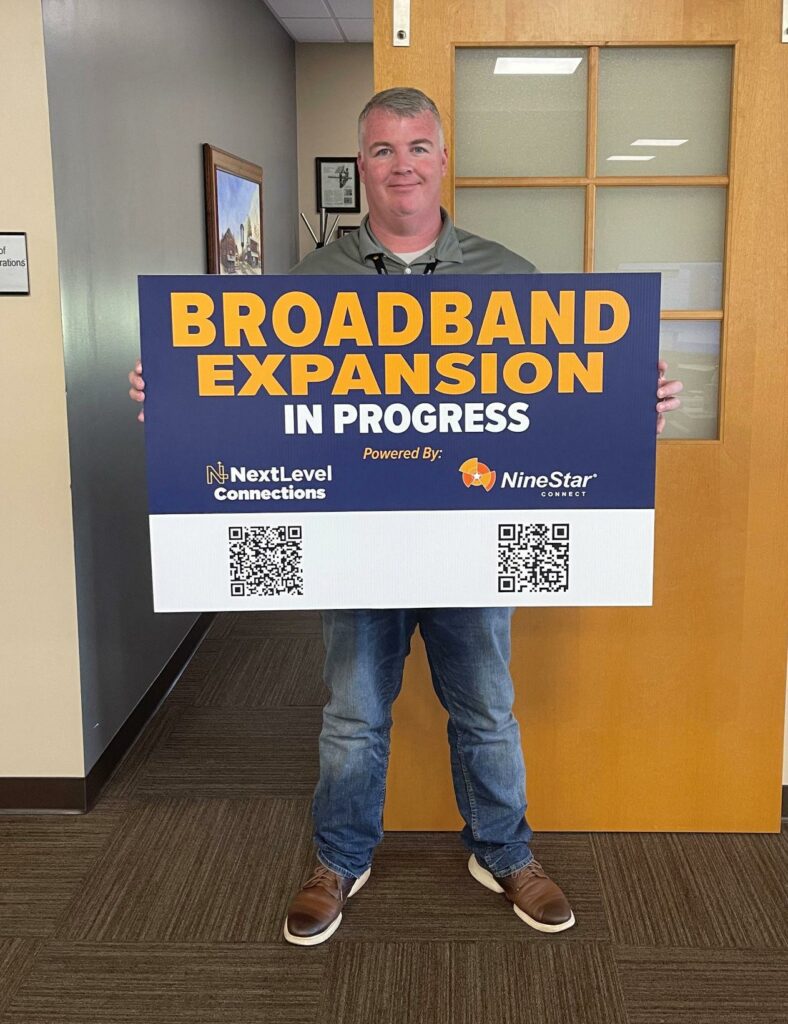 "What this and many other Next Level Connections projects in rural Indiana are all about is people and improving their lives. Providing technological parity and in many cases even surpassing what is available in the most densely populated areas for years to come," he said. "We want everybody to have the same level of services."
Plisinski said bringing internet access to rural homes and businesses in Henry County is another way NineStar Connect is meeting the needs of the co-op's members and customers "much like our cooperative grandfathers and grandmothers did so many years ago."
The new Indiana Connectivity Program (ICP) is allowing NineStar to build on the infrastructure they installed with the Next Level grant.
Plisinski explained that the new program helps extend lines to connect individual addresses to the new fiber infrastructure. OCRA will grant up to $4,800 for each address. The addresses are put into a database and internet providers like NineStar bid on them.
In the first round of ICP funding, NineStar installed lines around CR 100S, S. Grant City Road, Mill Road and County Line Road in Knightstown.
In the second round of funding, the co-op installed along CR 350S, CR 300S and again on Mill Road, extending off the lines installed during Round 1.
This third round of ICP funding includes 13-14 addresses along County Roads 450S and 625W. Plisinski said this project will almost connect to the infrastructure NineStar and Henry County REMC developed with the Next Level Connections grant.
He said 600 homes and businesses, previously served with copper facilities (DSL) will now have 1Gbps (and higher) capabilities with the full fiber-to-the-home build out nearing completion in these areas.
"In addition, many of the Indiana Connectivity Program awards we've received are peripheral to this construction, enabling additional Henry County residents the same digital opportunities and essentially serves as a 'launch pad' for further expansion via this program," he said.
Plisinski said these infrastructure upgrades will support "rural outsourcing to the gig economy."
"It's a huge opportunity for rural Indiana," he said.
– Story by Travis Weik (Editor@TheCourierTimes.com) of The Courier-Times. Read more local stories at TheCourierTimes.com.